A strong core is crucial both in and out of the gym. Not only is it involved in nearly every movement you do, but it also protects your back and improves your posture – not to mention that having visible abs never hurts!
One of the best ways to build a stronger midsection while working out from home is by using an ab roller. This portable workout tool is relatively simple, but the exercise is challenging and can have a huge impact when it comes to building your core strength.
We've ranked some of the top picks for ab rollers so you can decide the best ab roller to buy for your own home gym.
Product Reviews and Comparison Chart
Comparison Chart
EnterSports
Ab Roller Wheel
The EnterSports Ab Roller Wheel is a good choice for anyone looking to build an effective core station in their home gym without spending a ton or hunting around for different equipment. Besides the ultra-wide, stable wheel, it also includes resistance bands that you can attach to your wheel to add a little more difficulty to the workout.
The set also has a pair of push-up handles so you can work even more of your upper body and core with different movements!
Pros
Ultra-wide wheel
Resistance bands included
Push-up handles included
Comfortable knee pads
100% satisfaction guarantee
Cons
Key Takeaway
This is a great budget option for someone who wants to get more core equipment for their home workout area.
Vinsguir
Ab Roller
Simple and to-the-point, the Vinsguir Ab Roller is a basic, sturdy ab roller at a very reasonable price. The wheel is ultra-wide for stability, and the handle is made of comfortable EVA. The tube itself is stainless steel.
The highest selling point of this roller is its price – its low price point makes it ideal for someone who wants something simple that won't break the bank.
Pros
Ultra-wide
EVA handle
Less expensive
Stainless steel tube
Cons
Key Takeaway
The Vinsguir Ab Roller is a no-frills piece of equipment that does the job, so it's a great match for someone who doesn't to spend a ton of money on one piece of workout equipment.
Lifeline
Power Wheel
This ab roller comes with a unique selling point: in addition to the standard ab roller design, it also includes foot stirrups so you can challenge your abdominal muscle from different angles! This also lends itself to glute and leg training, so you can get different workouts with one product.
The grip on the handle is made of a soft foam to increase comfort during your workout. The tire is a little narrower than some of the others, so you might have decreased stability during your workout.
Pros
Foot stirrups for total body training
Foam grip
Tire tread on wheel
Straps are adjustable
Cons
Comes partially assembled
Narrower wheel
Key Takeaway
This is a great pick for someone who wants to increase their workout possibilities with one piece of equipment.
Fitnessery
Ab Roller Wheel
This ab roller wheel gives you a pretty good bang for your buck. In addition to the wheel itself, which is made of stainless steel, nonslip rubber, and PVC, you also receive a couple of additions including knee pads for comfort during your workout and nutrition and exercise guides to help you maximize the use of the wheel itself.
In addition, you'll also get a lifetime money-back guarantee, so you can have a little more peace of mind from this purchase.
Pros
Knee pads included
Nutrition and exercise guides included
Lifetime money-back guarantee
Nonslip rubber and PVC construction
Cons
Assembly required
Reviewers report uncomfortable handles
Key Takeaway
You get a lot for your money with this ab roller wheel, and with a money-back guarantee, this is an ideal purchase for beginners who want to add some abdominal work into their workout routine without breaking the bank.
Rogue Fitness
Ab Wheel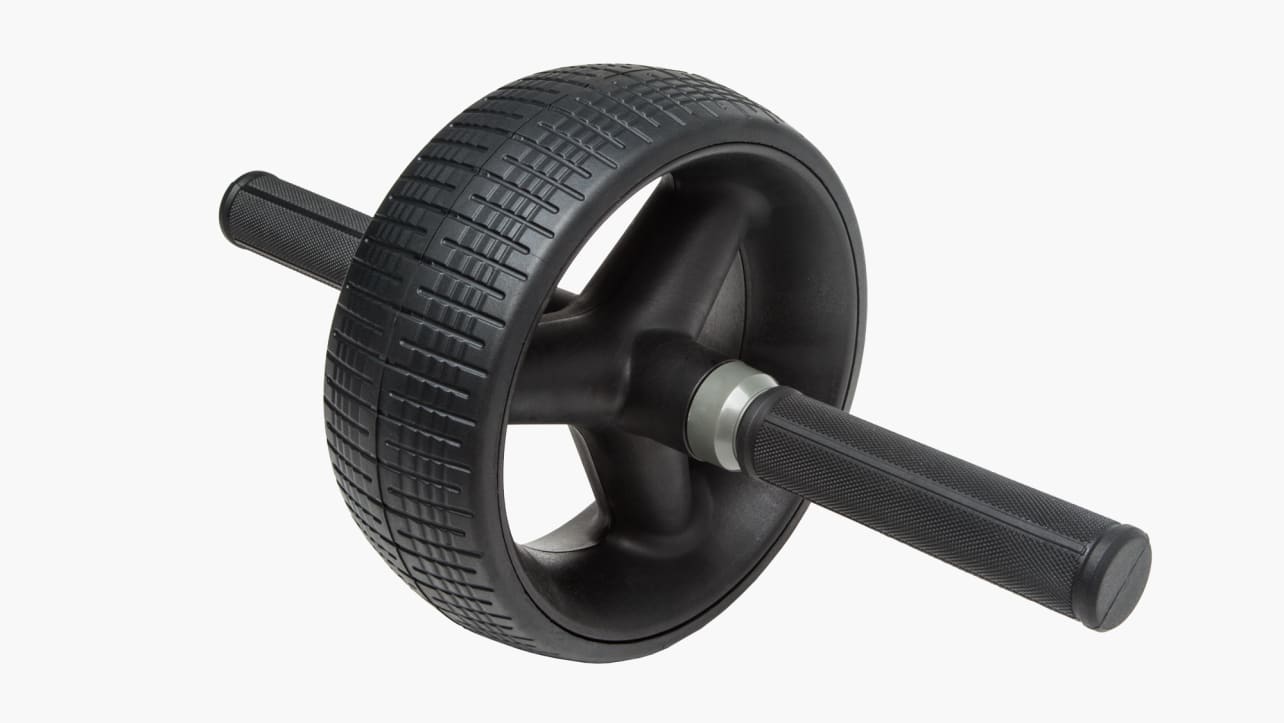 If you're looking for a more durable and challenging ab roller, look no further than Rogue Fitness's Ab Wheel. This roller has a rubber tire tread, which can help your traction on nearly any surface, and the bearings are sealed to keep the rolling motion smooth and precise.
This ab roller is also rounded on the edges, which is good news for anyone who wants a challenge. You'll have to work hard to keep the roller moving in a straight line and to prevent turnouts.
Pros
Rubber tire tread
Sealed bearings
More challenging
Durable
Cons
Key Takeaway
This ab roller is a serious contender for a serious core workout and for equipment that lasts. If you have the budget for this high-quality roller, you're definitely going to get a good core burn.
Perfect Fitness
Ab Carver Pro
When you're mastered the movement of a simpler ab roller, you might want to try the Ab Carver Pro. This roller has built-in resistance so you have to work a little harder for your core workout.
The wheel itself is extra-wide, so you can feel stable throughout your workout. There are included foam kneepads to protect your joints and the handles are ergonomic to protect your form, which is definitely important with balancing exercises.
Pros
Built-in resistance
1 year manufacturer warranty
Extra-wide
Durable
Ergonomic handles
Foam knee-pads included
Cons
Key Takeaway
The Ab Carver Pro is designed for a serious workout and includes plenty of safety features, but it is a pricier option.
BLUERISE
Ab Roller
The best feature of the ab roller by BLUERISE is its convertibility. The product actually has two smaller tires, which can be pushed together or pulled apart for more stability based on your fitness level.
The wheels themselves have a rubber tire texture similar to a car tire, and the brand offers a 100% satisfaction guarantee. On the downside, the finger grips on the product might make holding the handles and doing the workout uncomfortable.
Pros
Convertible
100% satisfaction guarantee
Rubber tire texture
Cons
Key Takeaway
This ab roller is a good choice for someone who wants more control over the width of the wheel, or for a home gym that multiple people with different fitness levels will be using.
Our Top Pick, And Why!
The best ab roller for your home gym is the EnterSports Ab Roller Wheel. In addition to the ab roller itself, it also comes with other equipment to increase the difficulty of your workout and give you a whole upper-body and core strength-training regimen.
Frequently Asked Questions
What are the benefits of using an ab roller?
Having a strong core is important for balance, posture, and supporting other workouts, so this relatively affordable equipment will have multiple health benefits.
Ab rollers are:
Portable: They require virtually no storage space and are easy to move around.
Cost-effective: They're a simpler piece of equipment, so most products will be affordable.
Versatile: You can do various ab workouts depending on your fitness level.
What kind of ab workouts can you do using an ab roller?
The classic ab roller workout is the "roll-out:" start on your knees and hold the ab roller on the ground in front of you. Slowly roll the roller away from you until you reach a plank position, then return to the starting position with control.
You can also do variations to target different areas of your core. For example, you can move the roller out to the sides in a "v" shape to target your obliques.
If you have a roller that includes foot stirrups, you can also lie one your back and do knee tucks to target your glutes.
Does the size of my ab roller matter?
The width of your ab roller wheel can determine how difficult the exercise is.
A wider wheel can make the exercise a little easier, since it provides more stability. On the other hand, narrower wheels will force you to balance more throughout the movement and might be better for a more advanced user.
How do I choose a Reliable ab roller?
Quality
Poor quality can lead to parts breaking off during your workout, which is especially dangerous when the workout requires balance and stability. Avoid the cheapest options and rollers made mostly of plastic pieces.
Grip
A lot of weight is going to be on your hands for these workouts, and the material on the handles can determine how comfortable the workout is. Look for foam-coated handles or similar materials for the best comfort during your workout.
Width
The width of the wheel will determine how stable you are doing your workout. Go for a wider wheel if you're just beginning so you can gauge your fitness level.