No gym is complete without a solid and reliable barbell. It is the centerpiece of every practical home gym set up, and choosing the right one for you and your fitness goals can be quite challenging, especially with so many options available on the market.
So today, we will guide you in finding the best barbell for your home gym. We did our homework and selected the best barbells available that will last for years to come.
We also answered common questions around choosing barbells so that you can make a more educated and informed decision when shopping.
Let's dive right in!
Reviewing The Best Barbells For Home and Comparison Chart
Comparison Chart
The Ohio Bar
Rogue Fitness – Multipurpose Olympic Barbell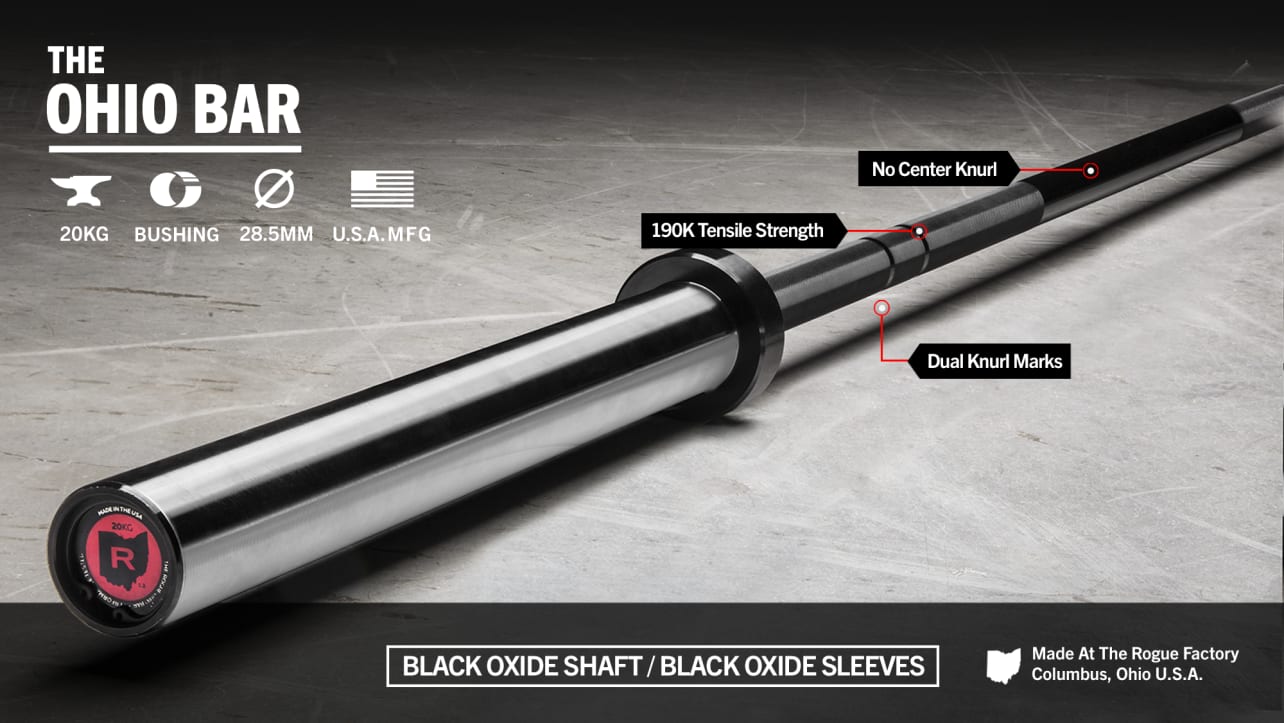 If your looking for a multipurpose bar that will withstand vigorous workouts, then the rogue fitness Ohio bar is definitely a reliable choice. This weight of this barbell is 20kg and has a 28.5mm grip diameter, making it ideal for both men and women.
The bar also offers good medium whip for performing deadlifts, while still providing stability for workouts such as bench press and squats. The dual knurl marks also provide a less aggressive feel while still providing sufficient grip which prevents slipping when lifting.
What stood out most about this bar was its textile strength measuring at 190,000 PSI. This level of durability gave us complete confidence that you are getting a highly durable bar that can withstand the test of time, even though the most intense drops and abuse.
Pros
Ideal for men and women
Provides sufficient whip for deadlifts
Designed for multi-purposes
Lifetime Warranty
Made In USA
Available in a variety of colors and styles
Cons
No centre knurl for squats
Key Takeaway
This is a very versatile barbell that is constructed with quality and durability in mind. If you're looking for a well-rounded bar that is highly resistant to drops with a medium whip ratio, then this will serve as a fantastic addition to your home gym.
Rogue
Rogue Fitness – 32mm Squat Bar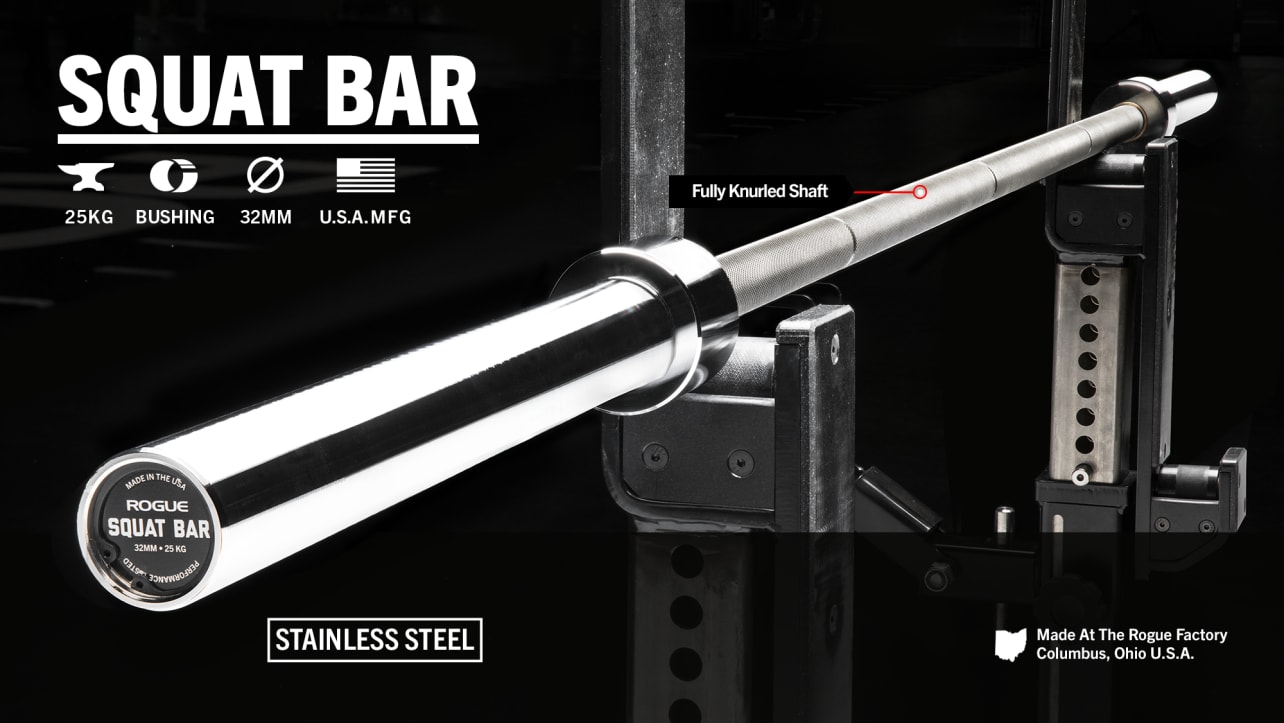 If your looking for a robust squat barbell, then look no further. The Rogue squat bar is the most durable and impact resistant barbell we found available, with a tensile strength of 200,000 PSI. It weighs 25kg and has a grip diameter of 32mm.
The bar is coated in stainless still and offers fully knurled shaft with powerlifting knurl marks on both the center and sides, allowing you to easily place your hands proportionally. We also found that the design of the knurling isn't overly aggressive while still providing maximum grip on both the hands and neck region when performing your squats.
Pros
Fully knurled grip shaft
Designed specifically for squats
200,000 PSI
Solid Bushings
Ideal for weight lifting
Made in USA
Lifetime warranty
Cons
Higher price point due to quality construction
Key Takeaway
All-in-all, this barbell is specifically designed for squatting with no whip. It is also appropriate for weight lifting including benchpress and curling. This bar was put through the harshest testing possible at rogue fitness before its launch, and it is definitely a tank that defines the laws of strength and durability!
The Rogue Bar 2.0
Rogue Fitness – Multi Purpose Barbell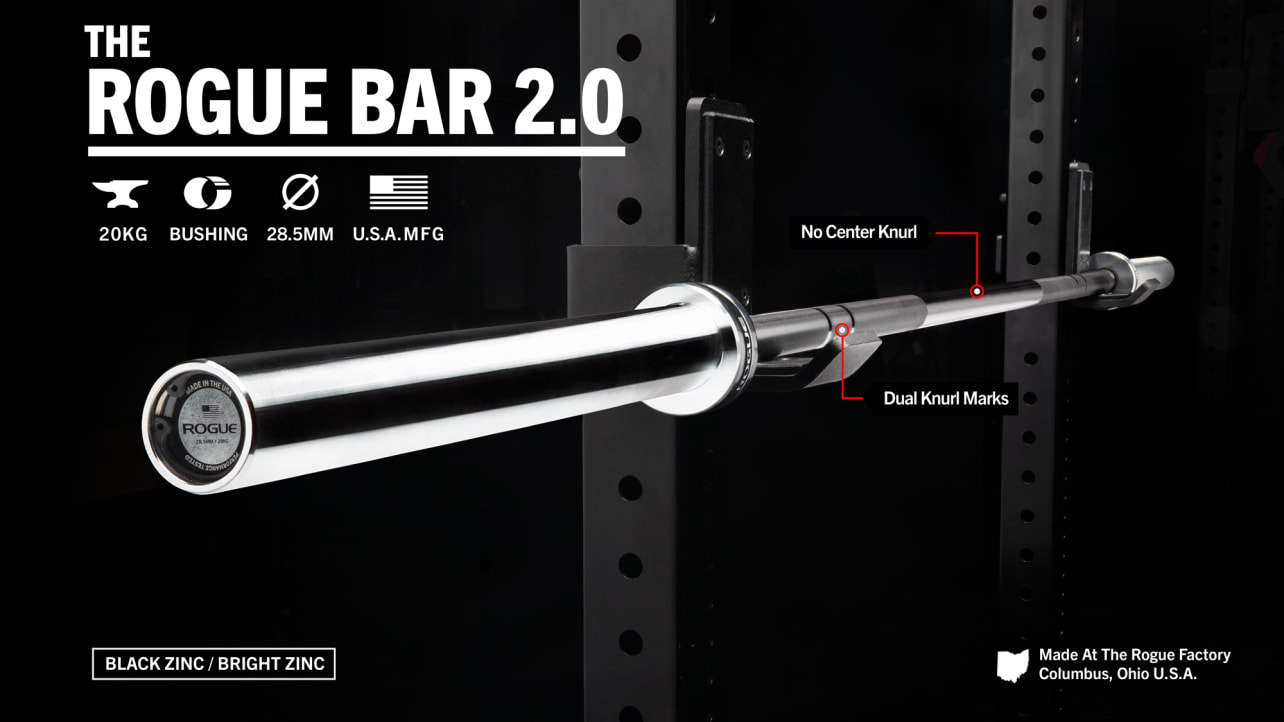 The rogue 2.0 is another durable multi-purpose bar that is designed for all types of exercises, from deadlifts, squats, to weight lifting. Like most fitness bars from Rogue Fitness, the bar holds a tensile strength of 190,000PSI, allowing it to withstand drops without breaking.
The bar also provides reliable spin which makes it ideal for CrossFit with a weight of 20kg, putting it at the lower end of the weight spectrum. It also provides sufficient grip with side knurl marks for Oly-lifting as well as power lifts.
Pros
Can be used for multiple purposes
Offers good spin
Description
Medium whip for deadlift exercises
Lifetime warranty
Made in USA
Highly durable
Cons
No center Knurl
Limited color options
Key Takeaway
Overall, this is barbell is ideal if you want to perform CrossFit exercises and offers medium whip which still enables you to use it for multiple purposes.
Yaheetech
Olympic 7 ft Weight Bar
The Yaheetech Olympic bar is a multi-purpose bar that measures 7ft with 13.6-inch plate sleeve spacers. It is made from iron and weighs 40lbs with a grip diameter of 30mm, making it ideal for both men and women grip types.
Unlike our other barbells on the list, it has a tensile strength of 63,800 PSI, making this product ideal for the beginner or novice user who isn't looking for a professional-grade barbell. However, it can hold a weight load of 330 lbs, which is more than enough to carry you on to the next level in your fitness down the road.
The grip shaft has both center and side grip knurl and offers minimal whip, which makes it practical for a variety of exercises including squats, bench press, and power-lifts.
Pros
Multi-purpose bar
Made from solid iron
Affordable
330 lbs weight load capacity
Spring collars included for both ends
Non slip weight threads
Cons
Prone to corrosion. Requires frequent maintenance
No warranty listed
Key Takeaway
Overall, this bar will serve as a great first addition to your home gym if your a beginner or average-level trainer who is not looking to spend hundreds of dollars on a barbell and won't be taking part in competition training.
CAP Barbell Classic
7-Foot Olympic Bar
The CAP 7-foot Olympic Bar is another great piece of kit for the home trainer that isn't looking for a professional-grade barbell, but rather a standard quality option that will provide multi-purpose use.
It is made from cold-rolled steel providing you with a well-balanced bar and durability for longer-lasting performance. As for grip and comfort, the bar offers knurling on both the sides and center, giving you grip for a variety of workouts including squats, bench press, curls, and deadlifts.
The tensile strength for this bar is 63,000 which is below the professional-grade mark. The grip diameter measures 30mm and the weight of the bar is 16kg, making it very versatile with low whip/flex.
Pros
Versatile
Highly durable
Side and middle knurling
330 lb load capacity
Made from solid cold rolled steel
Cons
Expensive for what it offers.
Only 30 day warranty
Key Takeaway
This barbell provides you with everything that you would expect from a multi-purpose bar. Its a great option if you are looking for an above-average standard, however, you can spend a bit more for a professional grade barbell with a lifetime warranty opposed to the 30-year limited warranty that comes with this bar.
Our Top Pick, And Why!
If you are looking for a well-rounded barbell that you can use for a variety of workouts, then the Ohio Bar by Rogue Fitness is by far the best option. There is no question that the construction and durability of this bar will withstand the test of time, regardless of your level of fitness or experience.
However, if your simply looking for a squat bar with no whip, then the Rogue Squat Bar is a great standalone choice. It is specifically designed for squatting and powerlifting, offering a peak performance tensile strength that can handle aggressive drops and abuse.
Frequently Asked Questions
What Weight Barbell Should I Buy?
Barbells come in many different weight variations, ranging anywhere from 2.5kg, all the way up to 50kg.
A standard Olympic barbell will typically weigh 20kg, which is an ideal weight to aim for if you are a beginner or a slightly experienced lifter. If you are a more advanced trainer, you can aim for the higher ranges, such as the 35 – 45kg barbells.
However, how experienced you are is just one factor to consider when determining the weight of your barbell. The types of exercises you are performing should also be taken into consideration when making your selection.
For example, Olympic barbells weighing 20kg will also have more flex or 'whip', for more explosive actions when performing workouts. On the other hand, heavier barbells that weight 35kg or more will tend to be stiffer for performing more controlled workouts.
Lastly, barbells designed for women will often weigh less, simply due to the fact that they have less bone density and strength than men do, by nature. Olympic standards show that the ideal weight for a women's barbell is between 15kg to 33kg, where for men it's 20kg to 44kg.
What Are The Different Types Of Barbells Available?
Choosing the right type of barbell for the type of workouts you will be performing is important if you want to maximize your results. Below, we listed four common types of barbells you will encounter in a gym or when shopping around.
Power Barbells
A power barbell is more intended for those looking to incorporate powerlifting into their workout routine. Power barbells are designed to have minimal or no whip, therefore preventing it from flexing when loading a heavier squat.
Additionally, power bars will have more aggressive knurling in the center which enhances grip for exercises such as dead-lifts and squats.
Weightlifting/Oly Barbells
As the name suggests, weightlifting barbells are specifically designed for weightlifting. These types of barbells have slightly more aggressive knurling, but less than a power bar. The purpose behind this is to give the lifter the ability to perform a smooth clean jerk while still providing sufficient grip.
Deadlift Barbells
Deadlift bars are built for those looking to get the most out of their deadlift workouts. They are designed to have a lot of flex or 'whip' in order to pull the slack out through the center and provide enough knurling for grip, while still maintaining comfort.
In addition to more whip, deadlift barbells are typically longer than other barbells to promote more flex, however, the difference in length is minimal.
Training Barbell
Training barbells vary when it comes to the center knurling strip, which plays a key role in providing grip while performing your exercises. In addition to various knurling types, these type of training bars will also provide different levels of rotation on their collars, providing some spin when lifting.
Training barbells will also have a whip that is less of a power bar – which provides almost no whip, and more than a deadlift bar for more flexibility. Keep in mind that the thickness and weight of the bar are also key determining factors when it comes to how flexible they are.
How Do I Choose A Barbell For My Home Gym?
How do you choose the best barbell for your home gym setup? Below, we listed some important factors to consider when choosing your bar.
Grip Diameter
The grip diameter is one of the most overlooked construction qualities of a barbell. The size of your hands and your grip can make a significant difference when it comes to properly gripping the barbell when performing your workouts.
Men's barbells are typically 28mm – 30mm in diameter, whereas women's are 23, – 25mm. Whether you are doing squats, deadlifts, or if your power-lifting, you can simply follow these guidelines. Doing so can help you achieve an optimal grip while reducing palm soreness and hand fatigue when lifting significant weight.
Knurling
The knurling in a barbell is the rigid texture that is located in the center and where the hands are placed on the bar. Knurling is important for promoting grip and increasing stability by preventing rolling out on both the neck and hands when performing exercises such as squats, rows, or deadlifts.
Another benefit of knurling is the ability to be able to locate the proper proportion as to where you should grip the bar. Most barbells will have knurling rings that are symmetrically aligned, allowing you to easily find them with your hands in order to achieve proper balance. This becomes important for stability, especially when your lifting heavier weights.
When choosing your barbell, it is important to understand what type of workouts you will be doing and what kind of knurling will be right for your specific situation.
Strength
The tensile strength as well as the yield strength of your barbell are critical for preventing breaking and fracturing. Aside from your equipment breaking, understanding the limitations of your barbell can also serve a safety precaution for preventing injury.
Let's look at both tensile strength and yield strength for a better understanding of the two:
Tensile Strength is the most important of the two and is used as the primary measure of how strong the bar is. It determines how much load your barbell can handle before breaking or fracturing.
Tensile strength of 150,000 to 180,000 is great for beginners, and anything beyond 180,000 is ideal for more advanced trainers looking to lift heavyweight and who want their barbell to last a long time.
Yield Strength determines how much weight the barbell can withstand on both sides before the bar loses its shape and becomes deformed. You will find that most companies don't indicate the yield strength, but this isn't a big deal as long as the tensile strength is high enough.
Preventing your barbell from losing its shape can be prevented by implementing good practices such as not dropping your bar with weight on, or not putting too much uneven tension on one side.
Whip/Flex
Flexibility can also be defined as the 'whip' of your barbell. This doesn't become as important for the beginner or 'at-home' day-to-day, lifter but does however become critical for Olympic athletes or professionals who practice competitive lifting.
Most companies will indicate how much whip the bar has. However, if they don't, try to find out what the barbell is primarily intended for (such as dead-lifting, power-lifting..etc ). Generally, barbells designed for dead-lifting will have more whip, whereas power and weightlifting barbells for bench press will have little to no whip.
If you are new to lifting weights using a barbell, then you don't have to worry about the whip until you are a more advanced lifter.
Warranty
Warranty can be your saving grace, especially if you pay a hefty amount for your barbell.
Typically, barbells with a longer warranty is a good indicator that you purchased a solid product, but it comes at a cost. However, if you spend minimal dollars for your barbell, then most likely your warranty will be short, next to minimal.
Ideally, you want to go for a good warranty that covers breaks, or warping if you lift heavy weights and go a little aggressive when using your bar.