If you want to lift heavy and take your home gym workout to the next level, it's well worth it to invest in a set of bumper plates.
While you can do a variety of movements and exercises using dumbbells, kettlebells, and other smaller pieces of gym equipment, sometimes there is no real replacement for lifting heavy weights with a bar and bumper plates.
Bumper plates are heavy weight plates that you can slide on to a barbell or use solo to really get a good pump. Whether you're a 9-5 athlete or an Olympic-level lifter, few exercises beat the complex, full-body workouts you can perform with these gym staples.
Bumper plates can be used for a variety of challenging and strength-building exercises including deadlifts, squats, and bench press, plus many people like to get bumper plates because they can be dropped and used in serious powerlifting and weightlifting moves.
These heavyweight pieces of equipment can come in a variety of makes, models, and materials, which can quickly become overwhelming as you shop for the right bumper plates for your home gym.
So if you're craving a heavy, muscle-building workout, read on! We've reviewed the best bumper plates for home gyms so you can buy the perfect addition for your garage workout.
Reviewing The Best Bumper Plates For Your Home Gym and Comparison Chart
Comparison Chart
Rogue HG 2.0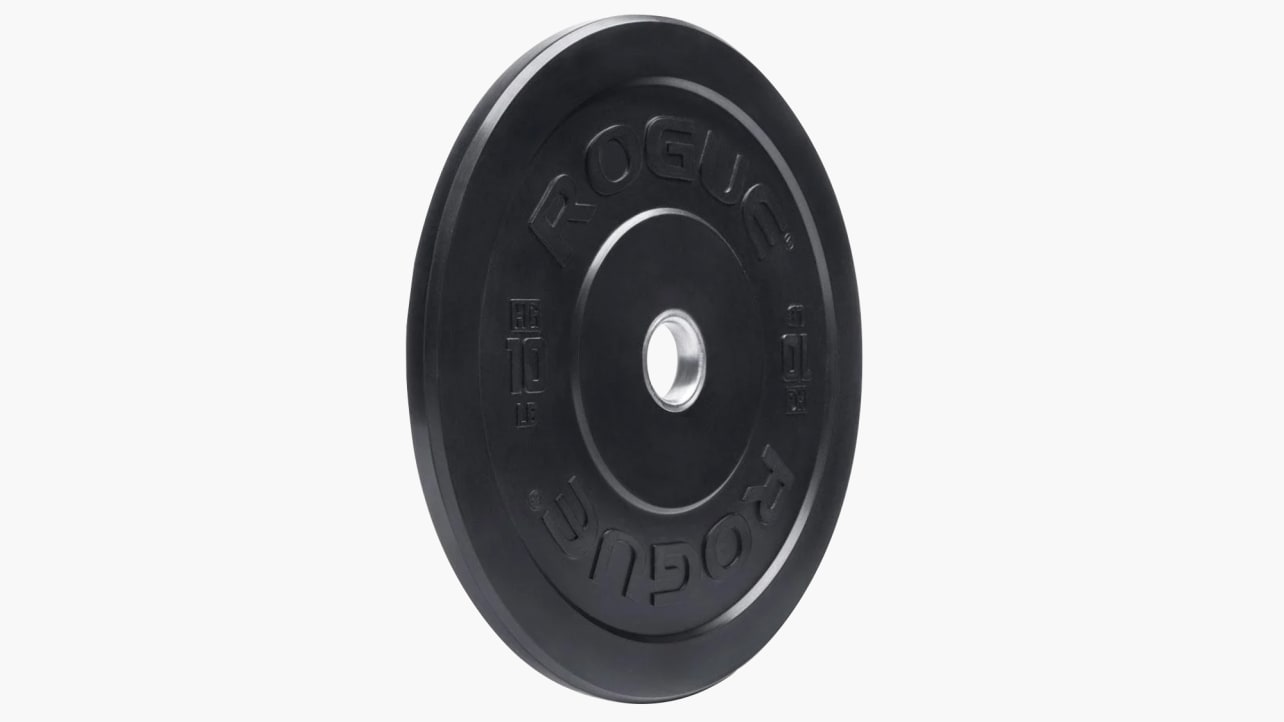 Rogue Fitness is known for making high-quality, gold-standard home gym equipment, and their HG 2.0 bumper plates are no exception. You can either buy these in a set or individually, and these plates boast a wide range of weight from 10 lb pairs to as high up as 55 lb pairs.
They may be slightly expensive compared to other bumper plates, but they are time-tested – these plates are actually used in the Crossfit Games! They have a harder rubber construction while remaining relatively thin, which is great for when you're looking for bumper plates that won't rebound too much and that can fit on your barbell.
Rogue is also known for its accuracy; you can rest assured that the plates you buy from this brand will weigh exactly what you want them to. Overall, this is a great pick from a great brand.
Pros
Goes up to 55 lbs
Minimal bounce
Proven brand
Accurate dimensions and weight
Rubber construction
Cons
Strong rubber smell upon purchase
High price point
Key Takeaway
Rogue Fitness's HG 2.0 bumper plates are reliable and well-trusted by many athletes and home gym enthusiasts. They are going to be a little pricier than other bumper plates on the market, but they'll be accurate, last virtually forever, and are suitable for many different strength training workouts. If you're looking for great quality, these are unmatched.
Rogue Machined Olympic Plates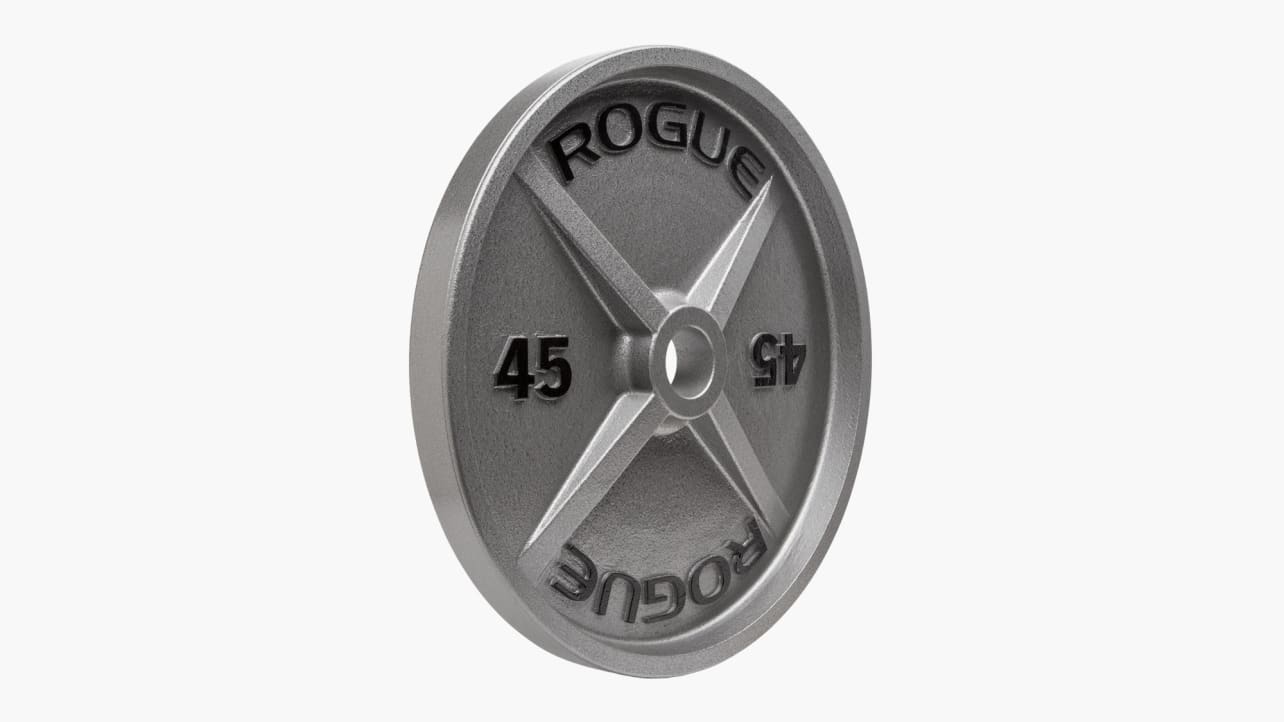 Secondary Description
Another offering from Rogue Fitness, these Olympic plates are made of steel, which may provide you with the most authentic gym experience. This durable construction is a favorite among serious weightlifters and powerlifters, so you can rest assured knowing you're getting a good workout if you buy these.
The plates range from 10-45 lbs, which is the standard for many lifters and will suit many of your weightlifting and powerlifting workouts. Because they are made of steel, they are also carefully calibrated, meaning that the weights will be more accurate than many of the other plates on the market.
Some reviewers reported minor cosmetic imperfections on these steel plates, but it doesn't take away from their effectiveness as a workout tool.
Pros
Classic steel construction
Options from 10-45 pounds
Reputable Brand
Great for classic powerlifters
Cons
Some minor cosmetic imperfections
High price point
Key Takeaway
Overall, these plates are high-quality, well-constructed products that give you all the benefits of "pumping the iron" at a gym but in the comfort of your own home. Rogue Fitness is a trusted and reputable brand, and reviewers love these plates for their durability and versatility. Again, this brand is going to be pricey, but the quality may make it worth your while.
CAP Barbell 1-Inch Plates
Secondary Description
The CAP Barbell Plates are smaller than the other plates on this list, but that might be a good thing depending on how you're planning on using them. They fit a 1-inch barbell, meaning you won't be able to use them for a standard Olympic bar. However, their 3-hole grip means you can use them for other exercises besides those on the barbell.
These plates also feature a cast-iron construction and baked-on enamel to prevent chipping. The weights only go up to 25 pounds, so it may not be the best fit if you're looking for heavier weightlifting equipment, but it could work well with adjustable dumbbells, smaller barbells, and other lighter exercises.
Pros
3-hole grip for other exercises
Easy to handle
Durable cast-iron construction
Baked-on enamel coating
Compatible with other CAP bars
Cons
Plates only go up to 25 pounds
Won't fit with standard Olympic bars
Key Takeaway
These plates are not standard Olympic plates, but they do allow for a good range of exercises if you don't need a lot of weight to work out. They are cast-iron, so you can rest assured that the quality is very durable and will last for many workouts. These plates won't give you the heavy lift that others on this list do, but if that suits your purposes, CAP is a good brand.
Hulkfit Rubber Bumper Plate
Secondary Description
The Hulkfit bumper plates come at a very reasonable price for the budget-conscious home gym. Their rubber construction gives you an ample amount of bounce, which is good for certain Olympic lifts as well as your floor, and they are color-coded to allow for easy plate identification.
The weights range from 10-55 pounds, which makes them applicable for nearly every barbell exercise and workout you can think of. They are also thin enough that you can fit many plates onto your barbell, but this may come at a disadvantage. The 10lb plate is very thinly constructed, so the manufacturer warns that they cannot be used alone and must be paired with another plate to prevent snapping.
Pros
Reasonably priced
Color-coded for easy identification
Rubber construction
Weight range of 10-55 pounds
Relatively thin
Cons
10 lb plates have thin construction so can't be used alone
Key Takeaway
If you're looking for solid bumper plates at a reasonable price, look no further than the Hulkfit Rubber Bumper Plates. They perform well for different exercises and will protect both your floors and your dumbbells, but be aware that the 10 pound plates can't be used on their own. They're better off being used with the other plates in order to increase the weight resistance.
Day 1 Cast Iron 2-inch Grip Plates
Secondary Description
Like the CAP Barbell plates reviewed above, these are grip plates. Unlike them, however, they feature a 2-inch hole that can fit standard Olympic bars up to 2 inches. These plates are made of cast iron and go up to 45 pounds, making them a solid cast iron grip plate for a reasonable price.
Because they are grip plates, you can use these weights for different workouts besides just on the barbell, and the grip holes allow for easier transportation and storage. They also boast the widest range of weights out of the products on this list, going from 2.5 – 45 lbs.
Some reviewers noted that the quality control was lacking when they bought these plates, so be aware if you're thinking about buying these.
Pros
Grips for workout variety
Weights ranging from 2.5-45 lbs
Solid cast iron
Fit standard Olympic bars
Reasonably priced
Cons
Some users reported inconsistent quality control between plates
Description
Key Takeaway
Because these plates can fit standard Olympic bars while also including grip holes, they are great for increasing the versatility of your workouts. The lighter weights can be used for warmups and adding smaller amounts of incremental weight to your workout, making it a solid choice for many home gyms.
Our Top Pick, And Why!
Our top pick for the best bumper plates for home gyms would have to be the Rogue Fitness HG 2.0 Bumper Plates. These plates are pricier than you can find from other brands, but you can't beat the weight accuracy, durable construction, and multifunctional use of these rubber bumper plates. Many serious weightlifters and professional athletes agree that these plates are the gold standard for bumpers.
Frequently Asked Questions
What are the different types of bumper plates?
You can find weight plates in a couple of different forms, and the kind that you buy depends on the types of workouts you're planning on doing.
Rubber Bumper Plates
Rubber bumper plates are made with a protective rubber coating and offer more "bounce" than your standard metal plates. Many athletes like to use rubber bumper plates because of their bounce, which helps with certain Olympic and CrossFit lifts. They are also friendlier for your home floors.
Metal Bumper Plates
Metal plates are often considered the standard for classic bodybuilders and weightlifters. They tend to be accurate and durable, but won't do as well being dropped like the rubber plates will.
Grip Bumper Plates
You may also consider grip plates, which have holes punched strategically throughout to allow for easy handling and storage. These plates can be put onto a properly-fitting barbell like the others, but they can also be used on their own for more handheld exercises.
Plate dimensions can vary widely, so make sure that the plates that you're buying will fit the barbell you choose.
Are bumper plates the same as Olympic plates?
Olympic plates get their name because they are used for Olympic weightlifting, and the increased popularity of CrossFit and powerlifting have made them a popular addition to many gyms and home gyms across the globe. Olympic plates have a bigger hole than other standard plates, measuring at 2" to accommodate for thicker Olympic bars.
Bumper plates are a specific subset of Olympic plates. Bumper plates get their name from their rubber coating – many Olympic lifts involve dropping the weights from higher distances, or lifting extremely heavy loads that can damage floors from their sheer weight alone. Bumper plates are a good choice for many people who perform Olympic lifts and powerlifting in their home gyms because of their safer construction.
In short, bumper plates are a type of Olympic plate that can be used for certain Olympic lifts.
Are steel or cast iron bumper plates a better option?
Steel and cast-iron are two of the most common materials for weight plates. Both forms of these metals are actually different forms of iron metal, with a couple of key differences. The question of which plate is better comes down to your budget and your intended purpose for purchase.
Cast-iron plates tend to be cheaper, but their weights might be a little more inaccurate since they are machined but not calibrated.
Steel plates, on the other hand, are generally calibrated and therefore have more accurate weights than their cast-iron counterparts, but they are also more expensive. If you're willing to shell out the extra money, you'll also find that steel plates are also more impact-resistant.
In short, cast-iron plates are a better choice if you're on a budget and aren't picky about your weights being exact. Steel plates would be the premium choice for accurate and durable weightlifting, but they'll come at a premium cost.
How do I choose the best bumper plates for my home gym?
Because bumper plates are big and heavy pieces of equipment, you'll need to keep in mind a couple of key factors when looking to purchase them. Some of these important factors include:
Noise
Since most exercises involving bumper plates are going to be pretty loud, it's important to keep in mind just how loud those plates will be when they hit the ground, for both your sake and your neighbors'. Rubber plates are going to be the quietest option as you're looking for the best bumper plates for your home gym, since harder metals will likely "clank" against each other, the barbell, and your floors.
If you don't mind the noise, metal plates would be just fine. However, if you have a good gym mat, it'll dull the sound of metal plates and protect your floors at the same time.
Material
You should also take the material of your weights into consideration, especially since these will be some of the biggest and heaviest pieces of equipment in your workout arsenal.
Rubber plates are popular choices because they can be used in a variety of complex lifts and are quiet and bouncy. However, they're harder to work with if you're planning on doing exercises that require holding them without the barbell, and they tend to be thicker than metal plates.
Steel plates are generally calibrated for the correct weights and are the go-to for serious powerlifting athletes. They'll cost more than the other materials, though.
Cast-iron plates tend to be pretty cheap and not as durable as the steel or rubber plates, plus their weights may not be as accurate as the others. They're still a good choice if you want to buy heavy plates on a budget.
Weight accuracy
It's very important to select high-quality plates that weigh true. When you're putting them onto your barbell, proper balance and weight profiles will ensure that your lift is smooth and prevent accidents or injury.
The most accurate plates will likely be steel, and will specify that they've been calibrated for the most accurate weight. The best way to ensure the accuracy of the plates you buy is to weigh them yourself, but if you're buying online and that's not an option, make sure you're going with reputable high-quality brands.
Barbell compatibility
You'll likely be buying your barbell separately from your plates, so it's important to make sure that they are compatible. You wouldn't want to buy a whole set of plates just to find out that they don't work with your bar of choice!
Olympic bars have a 2" diameter, so you'll want to double-check and make sure that the plates you buy also have a 2" opening so they can fit snugly. If you're using a standard bar, you would look for plates with a 1" diameter instead. Generally, bumper plates will be made for Olympic bars, but it's still a good idea to double-check before purchasing.
Thickness
As you think about which plates to buy, you should take into account how many plates you would like to fit onto your barbell. As a general rule, rubber bumper plates are thicker than plates made of cast-iron or steel, so if you plan on using your plates for powerlifting or other exercises that require a lot of weight, you'd probably be better off choosing a metal plate. On the other hand, if you only need to use a couple of plates, a rubber plate would work just fine.
Having wider plates may also "bend" the bar a little more when you're working with a ton of heavy weights, so keep that in mind if you're doing very heavy exercises like deadlifts.
Workout diversity
Before you purchase your plates, you'd do well to think about how you'll be using these plates and whether you'll be able to use them as you get stronger.
You can either buy plates as single pairs or as full sets – generally, its most cost-effective to buy plates in sets with 10, 25, 35, and 45 pounds included if you plan on growing stronger throughout your fitness journey. Don't forget that if you want to focus on strength training, you'll likely need to use heavier weights to get the same good workout down the line.
It's also worth thinking about the kinds of lifts you'll be doing. Rubber bumper plates are the most versatile. They can give you some "bounce" during moves like deadlifting, plus they'll be more friendly for your floors if you perform CrossFit and other Olympic-lifting exercises that require weight-dropping.
On the other hand, if you like to stick with traditional powerlifting and weightlifting, accurate steel plates are still often considered the gold standard, but they can't be thrown around if you decide you want to try those other lifts.