Are you looking for the best cable machine for your home gym setup? Want to dodge the idea of having to own multiple pieces of equipment in order to workout at home? Maybe you want to add a cable machine to your existing home gym setup up.
Although cable machines are the least favorite when it comes to the spending cost, they can offer multiple capabilities thanks to their versatility. This can not only save you money in the long run but can save you space and the time it takes to plan out an entire gym.
So, to help guide you in choosing the right product, we found and reviewed 3 of the best and most reliable cable machines we could find for your home to save you from making costly mistakes. We will also outline the benefits of adding a cable machine to your home gym setup and what you should look for when choosing your machine.
Let's dive right in!
Reviewing The Best Cable Machines For Home Gym's and Comparison Chart
Comparison Chart
Marcy MWM-988
Multifunction Steel Home Gym
If you're looking for a cable machine that targets all of your muscles, then the Marcy MWM-988 multifunctional cable machine has everything you need. It allows you to perform a wide range of exercises, including chest workouts using butterfly arms, bicep curls, leg curls, rows, tricep pull-downs, and lat pulldowns.
The weight stack provides 150lb of adjustable weight options (10lb per weight) that can be safely locked using a pin, and the weight plates themselves are highly resistant to slamming against each other during sudden drops. The entire structure and frame are also made from solid construction using 14 gauge heavy-duty steel, which is one of the highest ratings on the market.
The maximum user weight that this machine can support is 300lbs. It also measures 68" in-depth, 42" in width, and is 78" high which can fit in most common household rooms and basements.
Included in the package, you get ankle straps and a lat bar so you don't have to purchase additional accessories unless you are looking to perform single bicep curls. If you require more attachments, you simply add them in the future if you want to get more creative using the unit.
Pros
Solid 14-gauge steel construction
Supports 300lbs of user weight
Multifunctional
Comes with lat bar and ankle straps
Fair price-point for value offered
Cons
Comes with only a 2-year warranty
Key Takeaway
Overall, this is a fantastic all-in-one multifunctional cable machine that targets all your primary muscle groups for a fair price point. It's highly durable and is a fantastic option for anyone looking to save space without having to build an entire commercial gym.
Rogue CT-1
Single Cable Tower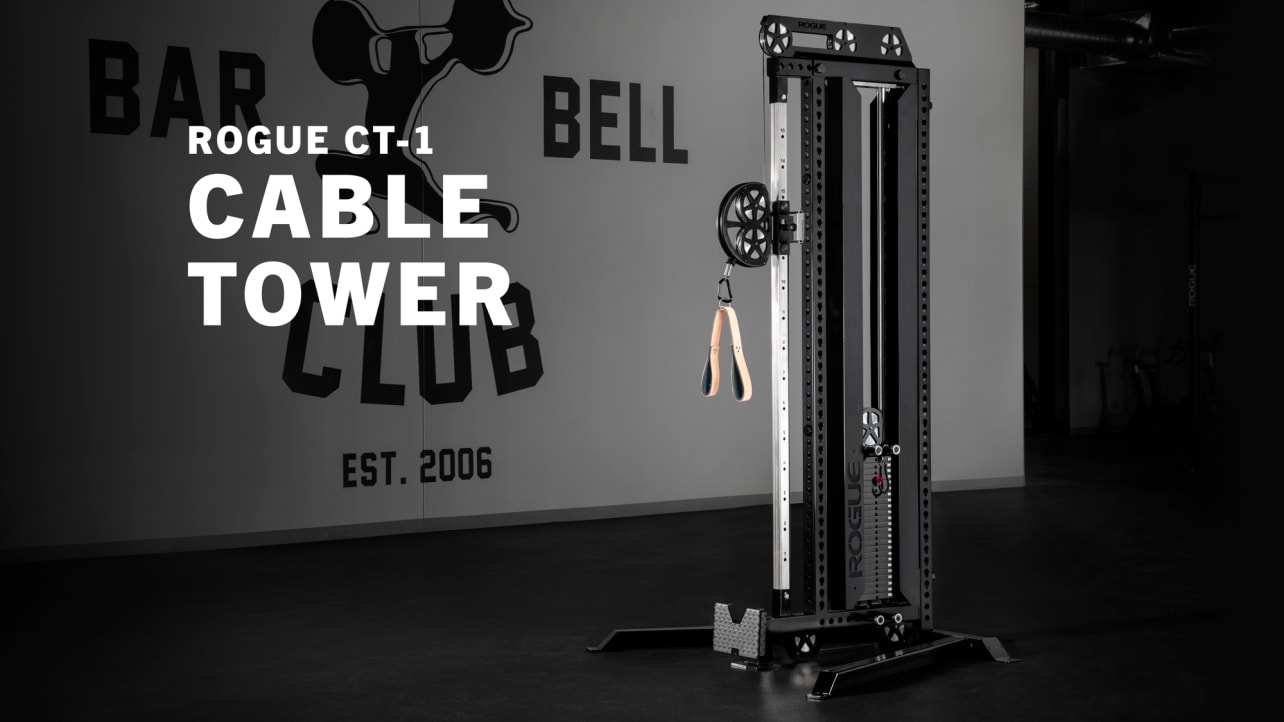 Rogue fitness has always been one of the leading American brands in fitness equipment when it comes down to quality and durability, and this is certainly true when it comes to their CT-1 cable machine tower.
This single cable tower offers a 250lb weight stack along with 16 adjustable foot positions, allowing you to lock in your preferred height. It measures 108" in height, is 52" deep, and 60" wide with an adjustable diamond tread footplate that allows you to perform seated rows.
We found this tower to be extremely robust using 11 gauge steel that is powder-coated in a matt black finish, adding additional durability and protection. The machine is also backed up by the Rogue Fitness lifetime warranty on all parts, which is always a clear indicator that this is a great quality product.
What we loved most about his cable tower was the pulleys and cable mechanism. The 1/4 inch cables used are from the same specifications as military aircraft cables which are also wrapped in nylon for noise reduction and extra durability. The 6" 180-degree swivel pulley that feeds the cable is also made from tough aluminum that is designed to withstand the upmost abuse.
Lastly, if you ever wanted to expand and build a crossover tower machine setup, you can always purchase a second tower in the future. Though this may run you a healthy amount from your pocketbook, you must keep in mind that you are getting the best of the best from Rogue Fitness.
Pros
Made from 11 Gauge powder coated steel.
Lifetime Warranty
180 degree pulley swivel
250lbs weight stack
Uses a 1/4" military grade cable
16 adjustable height positions.
Made in USA
Option to expand with a second tower is available for a crossover setup.
Cons
High price point. However, the quality justifies the cost.
Key Takeaway
Overall, this is a professional grade cable tower designed for those who are serious about the quality and longevity of their gym tower. So, If quality is what you're aiming for and are looking for an outstanding product for your tricep and back workouts, then the Rogue CT-1 is definitely a go-to option you can count on for the long haul.
Monster
Lat Pulldown Machine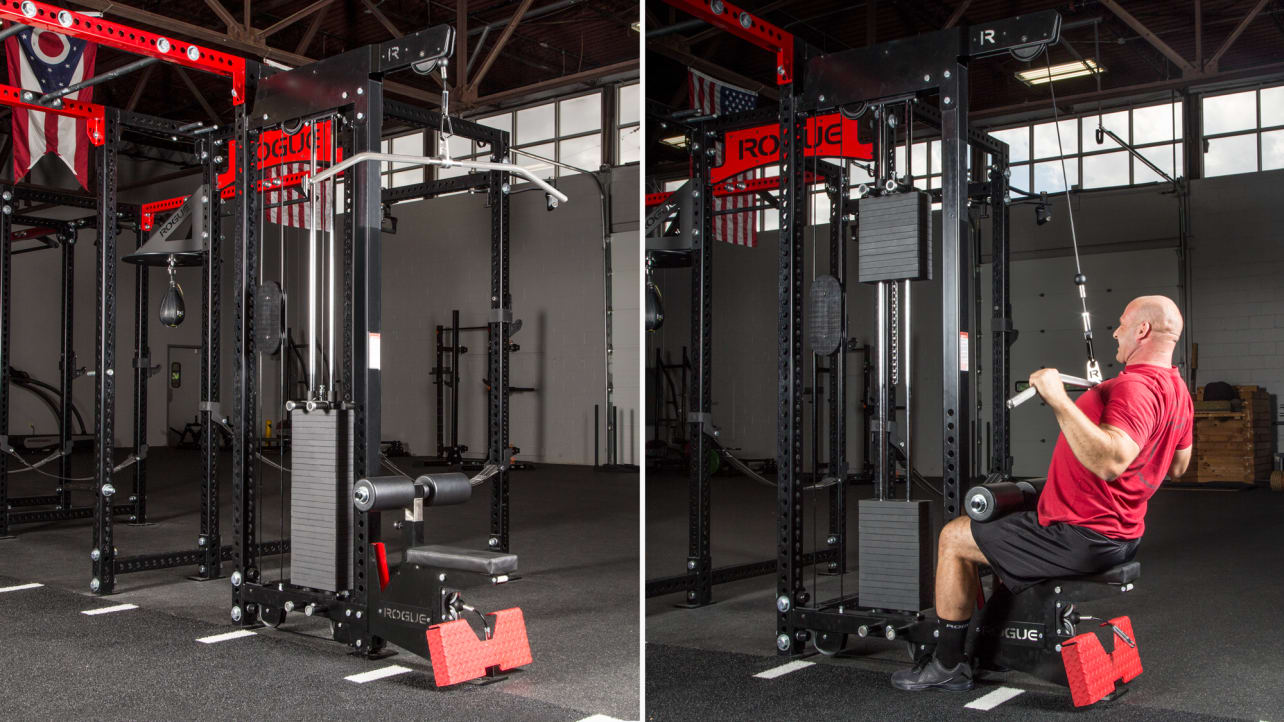 If your looking for the best of the best out of a lat pulldown machine, then Monster has you covered. This highly durable lat pulldown cable machine is sold and supported through Rogue Fitness and allows for additional exercises including tricep pushdown and rows.
This unit measures 57" in-depth, 24.5" in width, and is 96" high. As for construction, it is made from 11 gauge steel that is powder-coated in a fantastic looking satin black finish and can be bolted from the bottom, back, or sides. The seat attachment is made from durable foam and can also be adjusted to your seating preference.
What we loved most were the 6" nylon pulleys and the US military-spec aircraft cables that were used in the Rogue fitness towers. The custom black carabiners also look sharp and the stainless steel eye helps to set your focal point when performing your workouts. The foam leg roller assembly also allows for up to 6 adjustment positions which are spaced 1" on center.
Lastly, the weight stack allows for up to 300lbs and the entire unit comes with a lifetime warranty. As for accessories included, the unit comes with a stainless steel lat bar without requiring you to purchase one as an additional piece.
Pros
Uses Military-grade pulley cables
Made from 11 gauge steel
Stainless steel lat bar included
300 lbs weight stack (10lbs increments)
Lifetime warranty
6 total adjustment leg roller positions.
Cons
High price point due to quality and lifetime warranty.
Key Takeaway
The Monster Lat Pulldown Machine is a reliable piece of kit that is built to last. Durability and simplicity is the focal point when it comes to this lat cable machine, and in our opinion, there is no need to look elsewhere when it comes to this standard of quality and durability.
Total Gym FIT
If your primary focus is on building your abs and legs using a cable machine, then the Total Gym Fit is a great option for anyone looking for a sturdy machine that can save space. This model provides you with the ability to perform up to 85 exercises with 12 levels of resistance, including upper body workouts using bands. However, it's effectiveness leans more on ab and leg exercises.
The sliding mechanism allows you to perform squats along with ab crunches using the included ab crunch accessory that comes with the unit. Additionally, you will get a set of ankle cuffs, a ribbed squat stand, and a 2-piece wing attachment for a wider range of motion when performing your workouts.
In terms of quality, the frame is made of solid steel that supports 450lb for maximum durability and stability. The frame is also backed up with a lifetime warranty where all other parts offer a 2-years.
With a width of 18.5", a length of 93" and a height of 44.5", this cable machine is a definite space saver which can be stationed practically anywhere in your home. It has had plenty of positive reviews and even offers a 30-day money-back guarantee for those who are not happy with it within a month.
Pros
12 levels of resistance
Supports 450lb person weight capacity
Over 85 exercises capability
Practical for smaller spaces
Lifetime warranty on frame
Comes with a 30-day trial – 'no hassle' money-back guarantee
Additional ab and leg accessories included
Arrives fully assembled
Cons
Only 2-year limited warranty on parts (not the frame)
Key Takeaway
Overall, this is a durable and versatile cable exercise machine for those who want to train their abs and legs, and want some bonus upper body exercises that don't require weights. If you have limited space, this can make a great alternative to owning a squat rack or leg press by saving you space.
What Are The Different Types Of Cable Machines For Home Fitness?
When shopping around for cable machines, you will generally run into 3 different types. Below, we listed 4 of the most common ones you may run into when looking for your cable machine.
Complete Body Workout Machines
These are the most popular types of cable machines because they provide more of a variety of workouts and reduce the need of requiring other pieces of equipment.
Full body machines can come in the form of large crossover machines which consist of two towers that allow for adjustability and multiple weight stack options.
Another example can be a multifunctional seated setup, which you may have probably encountered at some point in a public gym. These allow you to perform chest flys using a butterfly mechanism, leg press, and bicep curls when in the seated position.
Single Cable Towers
Single cable towers are tall structures that usually consist of an adjustable pulley with different height variations, along with a row foot pad at the bottom. The pulley can also swivel up to 180 degrees, allowing you to pull weight at different angles.
Although single cable towers can be used independently, you can always expand in the future by purchasing a second one in order to construct a dual crossover set up. Purchasing both can allow you to perform exercises such as flys using both towers.
Lat Pulldown Machines
As the name suggests, lat pulldown cable machines allow you to perform lat pulldowns using an adjustable weight stack. These towers will have a bench attached to them with a knee cushion bad to help secure you when performing your pulldowns.
Other exercises that can be performed using a lay pull-down machine can include tricep pulldowns when standing up as well as low rows if the tower has a foot bad attachment on the bottom.
Squat/Ab Resistance Machines
These types of cable machines look like benches and are angles at an incline, allowing you to perform squats and ab exercises by pushing against different levels of resistance. Many today come with bonus attachments, allowing you to perform upper body workouts, however, this can be limited due to their design.
What Are The Benefits Of Using A Cable Machine?
There is no doubt that most local gyms will carry a cable machine. In fact, it is quite rare to not find one at all. There's plenty of good reason why they can be considered as an essential tool for any gym, including the one your building at home.
Let's look at the benefits of adding a cable machine to your home gym setup and why you may want to consider making it a part of your collection:
Isolates A Variety Of Muscle Groups
Cable machines allow constant tension to be maintained throughout your workouts and help to isolate all your muscle groups under tension. This not only activates your muscles and joints for building greater strength but allows for a full range of movement without sacrificing form while giving you the ability to maintain good consistent posture. The result is greater blood delivery 'or pumps', which lead to faster growth.
Versatility
As for the benefits that come with the design, cable machines allow you to perform a variety of pulling motions in various angles that often get missed when compared to training with weights.
A great example of this is being able to target all of your back muscles by performing pull cable pull-downs or doing rows. These exercises help challenge all your smaller muscle groups, including the ones in your upper and lower back which often get neglected.
Cost-Effectiveness
Because cable machines are so versatile, they can save you from having to own multiple pieces of gym equipment. Owning dozens of dumbbells, barbells, and weights can rack up the bill quite quickly, where owning the right cable machine can offer the same benefits, all in one machine at a lesser cost.
Maximizes Space
An all in one machine can also help save space, making it a great solution to those who live in condos or apartments. You can purchase accessories such as benches and attachable bars, handles, and ropes that can mimic the same workouts you would perform using weights without requiring squat racks or extra equipment that would otherwise take up a lot of space.
Safety
Another benefit of using cable machines is that they are much safer than free weights. Although it's still possible to get injured using cables, the level of injury can be significantly reduced. The reason for this is because the cables are attached to the machine itself, therefore causing the amount of resistance to be pulled away from your body.
Additionally, the weights that are used to create tension are located on the machine rather than being handled directly. Therefore, if you were to ever lose grip or control due to failure, there is no risk of that weight falling on you.
What To Look For When Choosing A Cable Workout Machine For My Home Gym?
Choosing a cable machine for your home gym can be confusing at times, especially with so many products out there. So, we listed some key factors to consider before selecting your cable machine and what to look out for when making your purchase.
Durability And Construction
Like any piece of home gym equipment, you want to avoid replacing and repurchasing the same product over and over again. This is where going for quality and paying a little bit extra pays off, as it can save you multiples of money in the long run.
Key characteristics of a good quality cable machine can include things like solid construction form materials such as steel and cast iron, as well as the thickness of the tension bands used. Avoid materials such as plastic, and simply stick to the most solid builds you can find in order to avoid complications.
Value
As the saying goes, you get what you pay for. Value can be a reflection of factors such as both the quality and warranty of your cable machine. Ensuring that you get a solid machine with the features you're looking for, along with a decent warranty can give you a better idea of whether or not it is worth the asking price.
Usability/Features
It is important that you explore and learn all the features and functions of your cable machine to make sure that you can perform the exercises you want in order to accomplish your specific fitness goals.
For example; if you want to perform fly's and bench press, along with lat pulldowns, ensure that the tension cable has an adjustable locking mechanism that allows you to set the height of your pulley. Having additional leg workout capability can also allow for various lower body workouts.
Secondly, you want to have all your necessary accessories for all your workouts. These can include things such as bars, grip handles, and ropes. Some cable machines may not come with all the accessories you need, therefore requiring you to purchase them separately.
Warranty
Last but not least, one of the most important factors to look for when choosing your cable machine is both the length of your product warranty, along with what it covers. Cable machines are not cheap, and a reliable warranty can save you hundreds if not thousands of dollars if any parts were to break.
A long warranty can also reflect the quality of your cable machine. If the warranty covers your product for a long time, then this communicates that the brand is confident in the machine lasting a long time without having to deal with many repairs due to the build quality. The opposite is true for the cheaper 'lower quality' cable units.
Therefore, make sure you do proper research by looking at what the warranty will cover and how long it will cover you for.