Dumbbells are a versatile staple for any home gym. Whether you are looking to isolate individual muscle groups, amp up the intensity of your cardio, or increase your strength, these free-weight necessities can do it all.
There are a lot of options for home gym dumbbells on the market, so we've rounded up 5 products so you can find the best dumbbell for your home gym. We'll also expand on the different kinds of dumbbells available and what to look for when purchasing dumbbell sets.
The Best Dumbbells For Home Gym and Comparison Chart
Comparison Chart
TELK
Adjustable Dumbbell/Barbell Set
LIJIE's adjustable dumbbell set includes a really cool feature for someone who likes to mix it up in the gym – the individual dumbbells can be connected to form one longer barbell! Along with classic dumbbell exercises like bicep and shoulder work, TELK'S offering can be utilized by the leg- and chest-day enthusiast to work on their squats, deadlifts, and bench press, plus the weight on this set goes all the way up to 88lbs.
You can change the resistance level of this set by sliding plates on and off and securing them into place with double-locking nuts. These weights are also rubber-coated to protect your home gym floors.
Pros
Wide weight range
Multifunctional barbell feature
Rubber coated plates
Space-saving design
Cons
Does not allow for quick weight adjustments
Key Takeaway
The TELK Adjustable set is an excellent choice for someone looking to do multiple exercises with minimal equipment. You won't have to buy a separate barbell if you have this set, so you can target various muscle groups and perform multiple movements with just one handy tool. The need to slide plates on and off might be a slight hinderance if you like to do different exercises back to back with different weight levels.
Rogue Fitness – YORK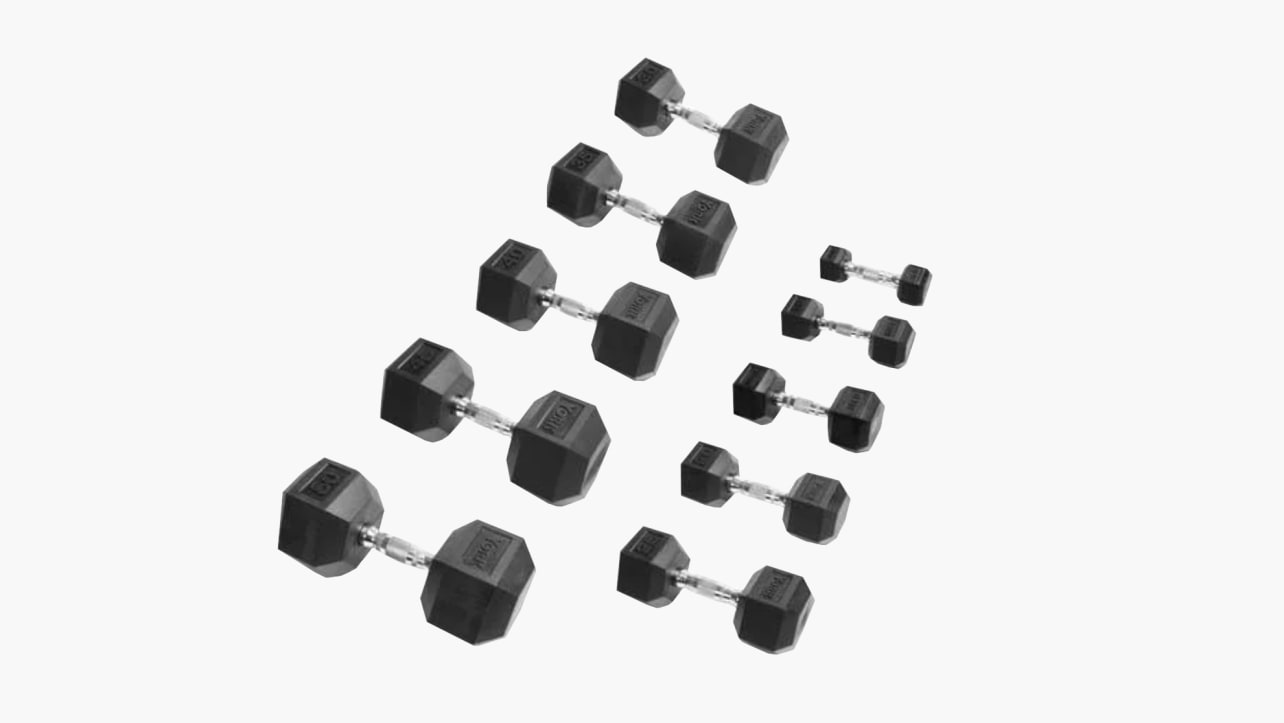 Dumbbell Set
This classic fixed dumbbell set comes with different buying options ranging from 5-50lbs, 55-100lbs, and 105-125 lbs. This set is a heavy hitter for buyers looking to recreate a classic gym setup with a wide range of exercise possibilities. We love that you can buy weights all the way up to 125 lbs – even the heaviest lifter in your home can get a good pump!
Additional features of these dumbbells include ergonomically contoured chrome handles designed to increase grip comfort. The rubber heads on each dumbbell provide durability, protect your flooring from damage, and allow for easy cleaning.
Pros
High range of weight variation
Solid construction
Comfortable handles
1 year warranty
Cons
Requires plenty of storage space
Higher cost point
Key Takeaway
This is a great set best suited for a heavy lifter with space to spare looking to replicate an authentic gym experience in their own home. With its ergonomic, comfortable design and durable build, York's dumbbells are designed to last through any workout. It may not be the most convenient set for someone who has minimal space or who prefers to use lighter weights in their workouts.
Bowflex SelectTech 552
Adjustable Dumbbells
The SelectTech adjustable weight set is Bowflex's contribution to compact home gym dumbbells. The set from this household name ranges in weight from 5-52.5 lbs, meaning it can replace fifteen sets of individual dumbbells. You can add and remove plates in increments of 2.5 lbs by simply turning a dial.
In addition to the convenience this huge weight range provides, Bowflex's SelectTech is compatible with Bowflex's training app, so you can shake up your workouts. Having a digital guide can keep your workouts interesting and help make the most out of your new gym equipment.
You can also take advantage of the SelectTech's 2-year warranty, which is great as some users report broken and stuck plates.
Pros
Wide range of weights
Simple weight-adjusting mechanism
Bowflex Training app compatible
2-year warranty on plates and parts
Cons
Some users reported technical issues when switching weights
Key Takeaway
Bowflex's adjustable weight set is a solid choice for the weightlifter looking for convenience and diversity in their workout. The ability to increase/decrease resistance in increments of 2.5lbs can open the door for a wide range of activities, and its simple turn-dial design makes it convenient to switch back and forth between settings. If you are wary of technical issues, though, you may want to look elsewhere.
CAP
Barbell Dumbbell Set With Rack
This set of fixed dumbbells comes with 5 pairs of weights ranging from 5-25lbs, and they are all conveniently housed in one rack designed with smaller spaces in mind. The rack's minimal A-frame design utilizes vertical storage space, increasing the organization and floor space in even the smallest home gyms.
The CAP Dumbbell set was also designed for comfort, featuring medium knurling on its handle to improve grip and safety during your workout. The classic design ensures that you can perform basic lifts without impediment, and the hex-shaped heads are rubber-coated, protecting your floors and preventing your weights from rolling away mid-workout.
Pros
Convenient A-frame rack
Comfortable design
Durable construction
Hex-shaped, rubber-coated heads
Cons
Limited weight range
Difficulty taking and re-racking weights on rack
Key Takeaway
If you are looking for a solid set of fixed weights with a built-in storage solution, the CAP Barbell's set is a good choice. The weights only go up to 25 lbs each, so it may not be the best fit for someone looking to work with heavier weights. The rack, while convenient for storage, does not have the most efficient design, with some users reporting difficulties racking their weights without hurting their fingers.
ATIVAFIT
Adjustable Dumbbell
The ATIVAFIT Dumbbell boasts all the convenience and space-saving features of an adjustable dumbbell with an added quick-adjustment feature. Using a simple push-pull design, users can add or remove plates with just one hand to easily increase or decrease the level of resistance according to their needs, eliminating the need for multiple pairs of weights.
This dumbbell features four different weight settings ranging from 5.5-27.5 lbs, so it may be best suited for someone shopping for a lighter set of weights. The chrome-plated, knurled handles of this product were also designed for comfort to minimize grip stress during your workout.
Pros
Space saving option
Quick weight adjustment
Four different weight settings
Comfortable handle
Cons
Max weight only 27.5 lbs
Some users reported that the weights felt insecure and shifted/moved around during workouts
Key Takeaway
If you don't need a ton of weight to get a good workout in, ATIVAFIT's dumbbell may fit the bill. The packaging is compact, lifting is comfortable, and if you like to do different lifts back to back and switch weights often, this will get the job done quickly. The max weight on this set is relatively low, though, so it may limit exercise possibilities for some.
Our Top Pick, And Why!
Our top pick for the best dumbbells for home gyms is the TELK Adjustable Dumbbell Set! We love its versatility – it can replace several pieces of equipment to get you the most out of your workout and the most bang for your buck. With just one product, you can work multiple muscle groups with both low and high weights. We also like that it comes with a relatively high weight range for a compact, easy-to-store adjustable dumbbell.
Read also: Best Budget Dumbbell Sets for Home
Frequently Asked Questions
What Types of Dumbbells Are There?
There are three different kinds of dumbbells: fixed, adjustable, and studio.
Found in most gym weight racks, fixed dumbbells come in a huge range of set weights and are solidly constructed. They are generally made of iron, though some have a rubber or polyurethane coating for comfort and floor protection. The weight variation and classic design means that fixed dumbbells can be used in nearly any lift in your workout and are especially useful for heavier lifters who need weights in the 100+ pound range.
Adjustable dumbbells allow for the addition or subtraction of weighted pieces to adjust the weight based on your needs, saving space and money. The mechanisms for weight adjustment can vary – common methods include sliding plates or locking push/pull designs. Some adjustable dumbbells can even extend into lightweight barbells for more workout variation.
Studio dumbbells are lightweight offerings popular in fitness classes and other lower-intensity activities. These weights tend to be smaller than fixed dumbbells and are easily portable, comfortable to hold, and are a good way to add resistance and amp up whole-body exercises.
What Should I Look For In a Dumbbell For My Home Gym?
Quality
Avoid cheap, plasticky constructions that can break down with time and use. Look for solid construction and welded points when shopping for fixed dumbbells to prevent potential accidents or injury. Quality is especially important when buying adjustable dumbbells – the removable parts pose extra risk, so make sure the different weights fasten securely and won't shift or come off during your workout.
Versatility
Whether you invest in a set of fixed dumbbells or a multifunctional adjustable version, consider the kinds of lifts you want to do and make sure that you have a wide enough range of weights to perform them all.
For example, if you have a dumbbell set with the capacity to go from 5 to 50 lbs, you can warm up with the lower weights, perform higher-weight burnouts, superset multiple different lifts, then work on strength and muscle building, all with one set. On the other hand, if you mainly like doing low-resistance lifts or already have heavier barbells to work with at home, you may not need that level of versatility and can stick to a set with a lower weight range.
Storage
One major consideration when shopping for your dumbbell set is the amount of space needed to use and store everything. If you decide to buy a set of fixed dumbbells, you may also need to consider buying a rack to keep your weights organized and ergonomically accessible, while an adjustable dumbbell set would need only a relatively small space for storage.
Think about where you will be setting up your gym. If you have enough dedicated space for equipment, such as in a basement or a garage, you will have more flexibility and may be able to purchase more fixed weights. If your only option for your exercise area is your living room, you might want to consider an adjustable set that can be compacted and stored away easily.
Design
Keep in mind how comfortable your product will be while performing different movements. Coating or knurling on dumbbell handles can increase grip comfort.
You should also evaluate how the heads of the dumbbells are designed. Hexagonal fixed weights will make sure your weights don't roll away and cause potential injury. Adjustable dumbbells will increase versatility, but bulkier designs might hinder the movement of certain workouts.