Are you looking to deck out your home gym with a barbell rack? Perhaps you're tight on space or want to stick to your budget, so you figure a half rack is the best option. Plus, a half rack allows you to perform squats, deadlifts, and chest presses; what more do you need?
However, you've never purchased a hack rack before. Lucky for you, we've done the research so you don't have to. Below, we examine our top five best half racks for a home gym. Which one should you choose? Let's find out.
The Best Half Rack For Home Gym: Reviews and Comparison Chart
Comparison Chart
SML-1 Rogue 70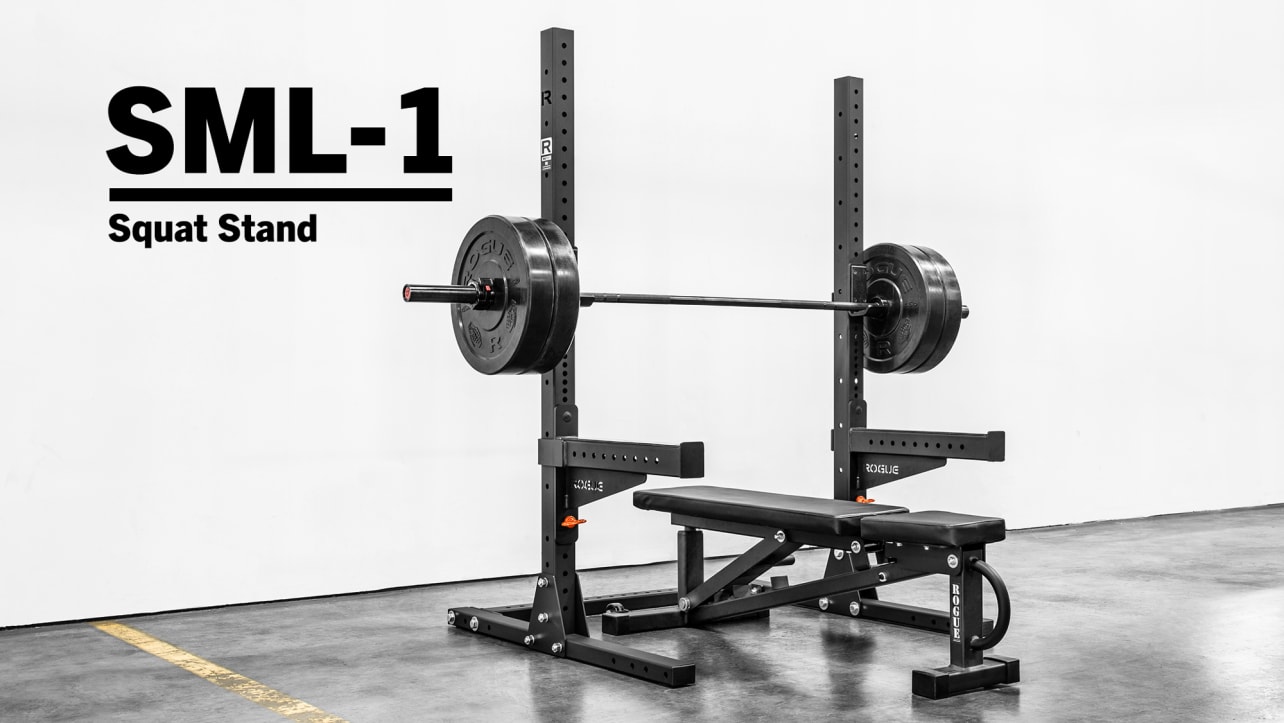 Monster Lite Squat Stand
The SML-1 Rogue 70" Monster Lite Squat Stand is a very compact unit weighing 122 lbs but able to withstand up to 1000 lbs of weight. This means you can amp up your lifting game with basically no weight barriers. The entire footprint of this squat stand is 49 inches by 48 inches and 72 inches in height.
This half rack is small, yet durable. It's made with 11-gauge 3×3″ square laser-cut steel uprights and (3) 2×3" 11-gauge steel base tubes. This gives it stability, allowing you to safely execute your exercises. Another cool bit about this half rack? Rogue guarantees it for life. Rogue places quality at the top and their squat stand is no exception.
With the SML-1 Rogue Squat Stand, you can also combine it with other Rogue products, such as Monster Lite Safety Spotter Arms, a Wheel Bracket Set, or Floor Mounting Feet. In a way, this allows the consumer – you – to customize it as you see fit.
Pros
Compact and can fit in smaller spaces.
Has a 1000 lb weight capacity.
Includes a pair of J-cups with protective plastic inserts.
Guaranteed for life.
Cons
Key Takeaway
This rack is excellent for lifters who don't have much space at home but want to complete a full powerlifting workout within their home gym. It also offers some options for customizing, meaning you can make it exactly what you want it to be. The only real downside is that there isn't a pull-up bar, which is a common theme amongst half rack products. Overall, Rogue is a top-quality brand that you can rely on.
Rogue Echo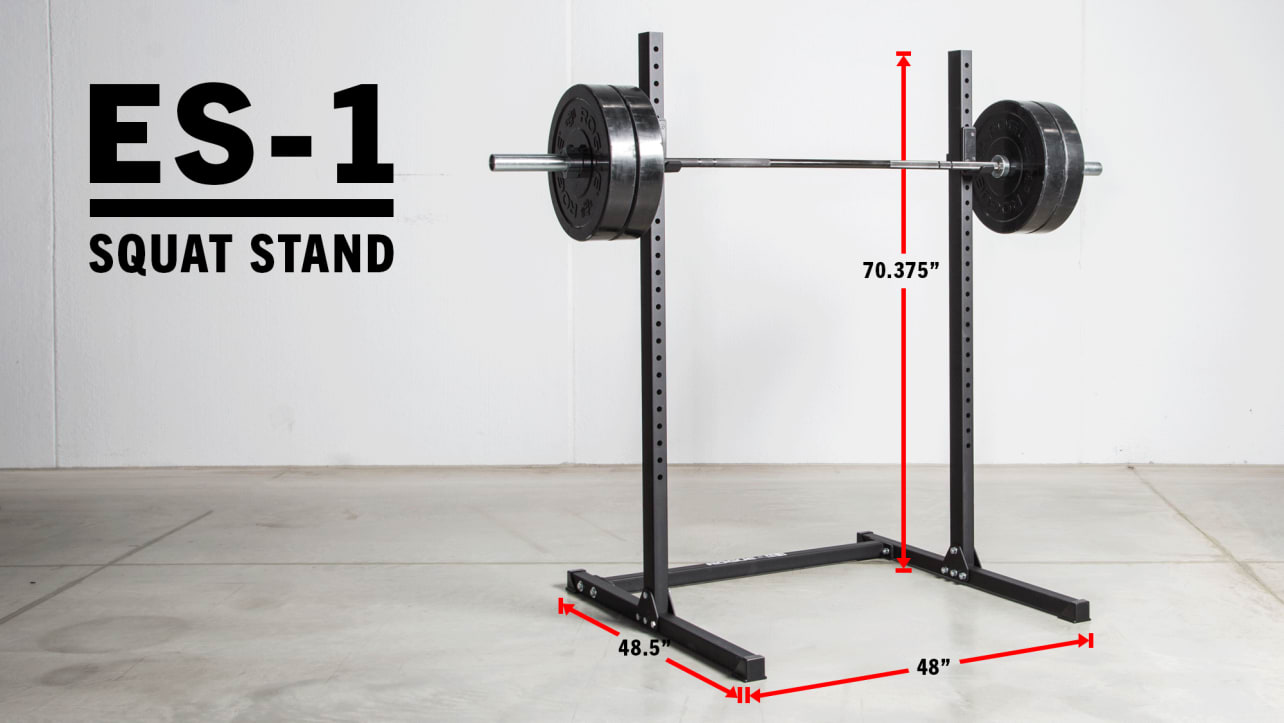 The Rogue Echo Squat Stand 2.0 offers a basic half rack for your home gym. It's the perfect option if you're on more of a tight budget and if you don't need all the bells and whistles that come with other alternatives.
Similar to other Rogue products, this squat stand has a 1000 lb weight capacity. This means that you'll be able to use it to progress your weightlifting goals as far as possible. It's also made with an 11 gauge steel based, making it a sturdy and stable option. With Rogue, you always know you're getting a quality product. This squat rack just keeps things a bit more minimalist.
The major downside of this squat stand is that it doesn't come with much more than the basics. If you're a beginner, you'll definitely want to purchase spotter arms for safety. Others may also want to add a bench to the mix. Yet, if you want a straight-forward and no-fuss squat rack, the Rogue Echo Squat Stand 2.0 is it.
Pros
Has a 1000 lb weight capacity.
11 gauge steel base makes it sturdy and stable.
Comes with a lifetime warranty.
More affordable than other stands.
Cons
Spotter arms are sold separately.
Key Takeaway
This squat stand is perfect for individuals on a budget and who want a more minimalist home gym set-up. For beginners, again, you definitely want to purchase accessories to ensure safety when lifting. These accessories, like spotter arms, will cost a bit more since they are sold separately.
Ollieroo
Ollieroo presents a multi-function barbell rack made with adjustable heights and a sturdy frame. The steel frame is able to withstand 480 lbs. The adjustable heights are supposed to allow the user to be able to perform chest presses and squats on the same half rack.
The assembly of this product is also considered easy and safe. However, it is definitely meant for a home gym and not any major commercial gym setting. The small amount of space this rack takes up further makes it easy to store, especially when it isn't in use. This may appeal to consumers who are tight on space, yet still want to create a functional home gym.
Pros
Sturdy and stable.
Saves space.
Has a 480 lb weight capacity.
Good quality for an affordable price.
Cons
Users report it not being the best option for chest presses or dips.
Key Takeaway
This half rack provides the basics. While it claims to be useful for chest presses, some users say it's too unstable for that. Others have also tried to perform dips and they don't recommend it for that type of use. Overall, this could be a great rack for beginners or for those simply wanting an easier way to do squats with a barbell within their home.
ANT MARCH
Steel Squat Rack
If you want an ultra-affordable squat rack and are willing to settle for a little less, ANT MARCH has the product for you. This steel squat rack is adjustable and boasts stability and safety as number one with a steel frame and base.
This product claims you can safely perform shoulder presses, bench presses, squats, deadlifts, and more. It can also safely handle up to 550 lbs, giving you plenty of room to increase your amounts per each lift. It also comes with 14 adjustable spotter positions. The rubber feet also protect your floor from getting scratched.
Pros
Comes with spotter bars.
Has a 550 lb weight capacity.
Comes with secure and non-slip rubber feet for stability.
Very affordable.
Cons
Slightly smaller in height than other stands.
Key Takeaway
While this squat rack claims it's great for any height, it only stands at about 5'5 feet. This might not be safe or suitable for some taller individuals. Further, some users have claimed it is very unstable. However, this may come down to how well you assemble and set it up. You want to ensure all the bolts and everything are screwed tightly. All in all, this rack might be suitable for individuals just starting out in weightlifting or powerlifting. For more advanced lifters, you'll probably want to find another rack.
Marcy
Adjustable Olympic Weight Bench
The stand-out feature of this half rack is that you can use it for multiple different exercises including both upper and lower body. The bench comes with the rack, and is padded for long-lasting comfort.
With a 300 lb weight capacity, you are guaranteed to gain some strength while using this rack. The back pad and arm pads are also adjustable, allowing the user to perform an array of exercises. This rack and bench combo is also built with a durable construction. It has a 14-gauge tubular steel frame that resists both water and rust.
Pros
Best quality for the price.
Good for squats and chest presses.
Has a 300 lb weight capacity.
Comes with an Olympic bench.
Ability to perform multiple exercises.
Cons
Some users report it being unstable when doing extreme heavy lifting.
Difficult to assemble.
Key Takeaway
This rack and bench combo is excellent for those wanting to get more out of a half rack. There are endless options for exercises. However, users have reported that the self-assembly can be tricky. Some consumers even added helpful tips to their reviews for others to follow for the assembly process. Further, some users did report it was quite unstable, yet this may depend on how well it was assembled. Overall, this is a great option for a home gym, especially for those tight on space and those that want one piece of equipment that does it all.
Our Top Pick, And Why!
Our top pick is #1 – SML-1 Rogue 70" Monster Lite Squat Stand.
The SML-1 Rogue 70" Monster Lite Squat Stand stood out from the rest. While it may cost a little more than other options on this list, it's ideal for the beginner and advanced weight lifter. It also appears to be the more safe and durable option. Lastly, it can hold up to 1000 lbs, which is substantially more than other half racks.
Frequently Asked Questions
What Is A Half Rack And Who Is It Ideal For?
A half rack is different from a full rack in that it only has two upright pillars. A full rack has four upright pieces. A half rack is ideal for saving space while still being able to perform big lifts, such as the chest press or squat. In other words, it's perfect for those wanting to get the most out of their home workout, but have a limited amount of space.
What Exercises Can You Do With A Half Rack?
The best half rack for home gym use gives way to multiple exercises including the squat, deadlift, chest press, deadlift, overhead press, and lunge. Depending on the set-up or accessories, you may also be able to perform dips, curls, and other exercises.
What Is The Difference Between a Power Rack And A Squat Rack?
A power rack is basically a full rack. It looks somewhat like a cage and has four upright stands. When performing an exercise in a power rack, you can drop the weight if needed. This is fairly safe since the horizontal bars on either side will catch the barbell. With a squat rack, or half rack, you don't have this kind of safety mechanism. While you can purchase racks with spotter arms, it isn't quite the same nor as safe.
What Should I Look For When Selecting A Half Rack?
So, where should you start with your search? What aspects or features should you really consider when weighing the pros and cons of each product? Check out our list below.
Safety or Spotter Arms
These are especially important features if you're new to weightlifting or if you're trying to aim high, such as achieving a personal best or a one-rep max. In a full rack, horizontal arms are built into the frame. Yet, half racks sometimes come with these arms or don't. Sometimes, they also must be purchased as an additional accessory. If you're going to lift heavy or you're new to exercise, aim to get safety or spotter arms.
Quality and Sturdy Build
Quality and sturdiness is a crucial piece to consider when buying a half rack. You don't want a flimsy piece of equipment for lifting the barbell. Reading previous reviews and examining what each frame is made of can help you determine the quality and sturdiness of the product.
Weight Capacity
This may not matter too much for beginners. Yet, for the more advanced lifter, the weight capacity of the half rack is a key aspect. If you're already lifting close to 200 or 300 lbs, you don't want a rack that only has a capacity of 300 or 400 lbs. This might not last you very long or allow you to perform personal bests. Some of the best racks, like Rogue products, can handle up to 1000 lbs. Depending on where you're at in your weightlifting journey, this may matter.
Self-Assembly
Many half racks require you to self-assemble it. This part of the process is important since it can determine how sturdy your rack is. Again, read previous consumer reviews to determine if you're up for the challenge of assembling a given product. Some are easier than others. When it comes to the best half rack for your home gym, the product that you can assemble with ease is best since this guarantees more sturdiness and durability.