Resistance bands with handles are a popular option for home gyms, and their beauty lies in their versatility.
They're portable and cost-effective, making them a great option for strength-training if you're strapped for money or for space. Even better, they can be used for a variety of workouts from pull-ups to leg workouts, so they're perfect home gym additions as a replacement or addition to other more expensive pieces of equipment. 
We've ranked the best resistance bands with handles, from individual pieces to stackable options and even total gym replacements, to help you decide which options are the best for your space and fitness goals.
Reviewing The Best Resistance Bands With Handles and Comparison Chart
Comparison Chart
BodyBoss 2.0
Complete Gym
This product is more than just a resistance band with handles – it's a whole portable home gym! In addition to the bungee cord-style resistance bands, it also comes with add-ons like a squat bar, straps, and door anchor. It also has a base that you can stand on and attach the resistance bands, which quickly broadens the workout possibilities.
This is a more costly option than others, but it will also cover more workouts so you wouldn't have to buy other pieces of equipment.
Pros
All-in-one gym system
Squat bar, straps, and door anchor included
Base included
Whole body workout options
Cons
Much more expensive than simple bands
Key Takeaway
This purchase is more than just resistance bands, which makes it a great buy for someone looking for a comprehensive home workout system.
HPYGN 150lb/200lb/250lb Resistance Bands Set
This set of exercise bands are stackable, so you can use the various bands either independently or together to add weight and to get the most out of your workout. The individual bands range from 10-50 pounds each and can be used altogether for up to 200 pounds of resistance.
The HPYGN bands attach to the handles by stainless steel carabiners and are themselves made of natural latex for good elasticity and durability.
Pros
Stackable
Anti-slip handles
Color-coded
Door anchor and ankle straps included
Cons
Can't buy individual bands
Key Takeaway
This exercise band set is a great option for anyone who's looking for more of a challenge with their resistance bands. They have enough bands and options so you can get the most out of your whole-body workout.
Rogue
Tube Bands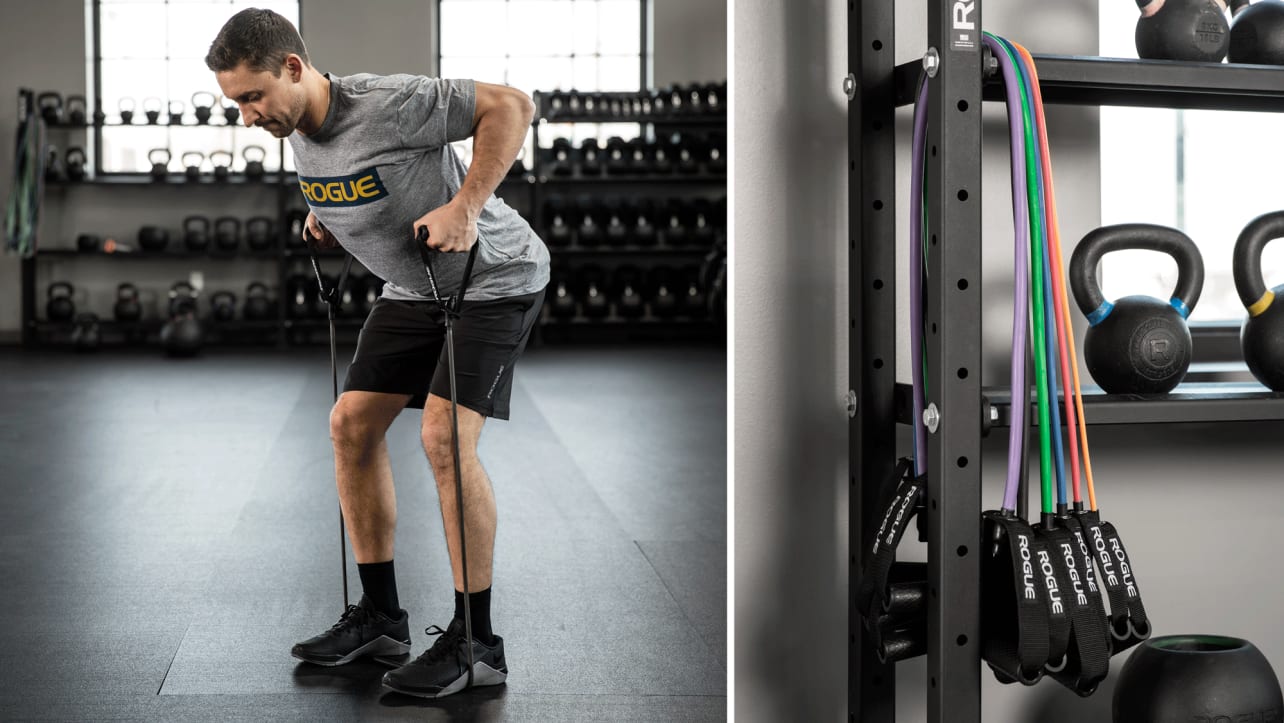 These high-quality tubes from Rogue Fitness are made of latex-based elastic and are 48" long when unstretched. They range from resistances of 10-60 pounds, and their different buying options allow you to get the bands in matching pairs or in varying sets based on your fitness level and intended use.
On the downside, they aren't stackable, so you'll be limited with the amount of resistance you can utilize with them.
Pros
Color-coded
10lb – 60lb options
Textured handles
Different buying options
Cons
Key Takeaway
Rogue Tube Bands are a classic resistance band with handles, and their high quality means that they'll last you much longer than cheaper versions.
The FitLife
Exercise Resistance Bands With Handles
These resistance bands are stackable and color-coded so you can easily adjust based on your fitness level and the workout. They come with two different buying options (total 110 or 150 pounds) so you can customize for your own preferences.
The bands themselves are made of latex and they come with a user guide and carrying bag for portability.
Pros
Stackable
Color-coded
User guide included
Different buying options
Durable carabiner and buckles
Cons
Users report that resistance sometimes varied
Key Takeaway
This is an affordable option for adjustable resistance bands that covers all the bases for a home workout.
Whatafit
Resistance Bands Set
This is another color-coded resistance band set that can be stacked using metal rings and the included carabiner. Overall, this set comes with eleven pieces included a door anchor and ankle strap, so you can get a decent full-body workout.
Users did report that these bands might not have as much resistance as the numbers on the product would suggest, so they might not be a good pick for someone who needs more advanced strength training.
Pros
Stackable up to 150 pounds
Door anchor, ankle straps included
11-piece set
Color-coded
Cons
Users report less resistance than expected
Key Takeaway
This set includes plenty of pieces so you can maximize the versatility of your workout.
Black Mountain Products
Resistance Band Set
This set of bands by Black Mountain Products is stackable up to 75 pounds, which might be ideal for someone looking for a beginner set of resistance bands. They're made of a mix of natural and synthetic rubber and clip on to the handles with durable carabiner clips. They also come with a lifetime warranty, which is always good for breakable exercise products.
One significant con of this set is that the bands don't have the resistance levels written on the bands themselves, so you have to refer to a guide to know just how much weight each band provides.
Pros
Stackable up to 75 pounds
Lifetime warranty included
Durable rubber bands
Carabiners rated for 200 pounds
Cons
Less resistance
Resistance levels not written on bands
Key Takeaway
This set by Black Mountain Products doesn't provide as much resistance as others, so its best used for someone who isn't going to need a ton of weight during their workout.
SPRI Xertube
Resistance Bands With Handles
These resistance bands are sold individually, rather than as a whole set, so it would be a good buy for someone who only needed one or two bands rather than full set. These bands come in five different weight levels, and the handles are attached directly to the band rather than being attached by a carabiner like stackable options.
Pros
Protective rubber sleeves for durability
Professional-grade quality
More affordable option
Compatible door anchor available
Cons
Not stackable
Not cost-effective if you need more than one
Key Takeaway
If you only want one or two bands and don't want to spend a ton, these bands have the buying options you're looking for.
Our Top Pick, And Why!
The BodyBoss 2.0 is a great choice for anyone who wants to maximize the workout options they have in their own home. It has plenty of attachments and anchors so that you can work out more with less. If you don't want to buy a ton of other equipment but do want to make the most out of your resistance bands, this is a great choice.
Frequently Asked Questions
Can resistance bands build muscle or tone?
Resistance bands are a great tool for strength-training which makes them a great, cost-effective option for building muscle.
Resistance training strengthens your muscles by making them work harder, which can cause damage to your muscle in the form of microtears that can be built back with the right diet. Building muscle does require heavier forms of resistance, so you might want to purchase resistance bands with heavier weight resistance (think 50 pounds and up), if you want to do more than tone.
Are resistance bands just as good as weights for building muscle?
Resistance bands are great tools for toning since they're so versatile. They provide enough resistance that you can easily work out several different muscle groups.
If you do want to build serious muscle, though, pay attention to the kinds of bands you're buying: you want to purchase bands that have heavy levels of resistance so that you can work your muscles to the point of growth.
Can you use resistance bands every day?
You certainly can use resistance bands every day, but if you want to see the results of those workouts, you shouldn't overlook the importance of having rest days.
Giving yourself a couple of days off a week from resistance training allows your body to repair and rebuild so that you can actually start to see those results, so you should take at least a couple of rest days per week unless your workouts are very low-intensity.
What are the pros and cons of exercising with resistance bands?
Pros:
Beginner-friendly
Versatile
Cost-effective
Safer than free weights
Cons:
Limited ranges of motion
May not always give you enough resistance
More easily damaged than iron weights
How to choose the best resistance bands for home
Durability
One of the most important things to consider as you're buying a resistance band is how long those bands will actually last. Bands vary widely in cost, but cheaper isn't necessarily better in this case. Low-quality bands are more prone to snapping, which could be inconvenient at best and cause serious injury at worst.
Length
Length is also an important factor to consider when searching for the right resistance bands with handles. You'll want a band that's long enough to accommodate for your range of motion, so only choose the band that works for your intended purpose.
Resistance level
The last thing to consider is how much resistance your band is giving you. If you want to build muscle, you'll want bands that can continuously challenge your muscles, so adjustable options or multiple bands are ideal.