Having a good workout bench can really take your workout to the next level. You can easily center an entire workout around your bench and a couple of weights, whether you're focusing on building muscle or using it as a step for a cardio circuit.
Even though benches are an important piece to add to your home gym, you don't necessarily need all the bells and whistles of a more advanced workout bench. As long as it's sturdy, well-built, and can be used in conjunction with your own workout routine, a simple weight bench can do just fine.
Here are seven of the best simple weight benches for home so you can add one of these essentials to your own personal gym!
Reviewing The Best Simple Weight Benches For Home and Comparison Chart
Comparison Chart
ADVENOR
Weight Bench
The legs have a triangular structure for added stability and folds up completely to compact down to 1 square foot for better storage. It also comes with a lifetime warranty to back up your purchase.
One important thing to note is that this bench seems to be made for taller people, with some users reporting that they can't touch their feet to the ground when using it.
Pros
Spring knob adjustment
7 backrest positions
Triangle structure legs for support
3 seat positions
Holds up to 800 lbs
Compact
Cons
Not ideal for shorter people
Key Takeaway
Because this bench offers so many different positions while still folding down for easy storage, it's a great bench for a taller person who wants to maximize their workouts but with minimal storage space.
Rogue
Adjustable Bench 2.0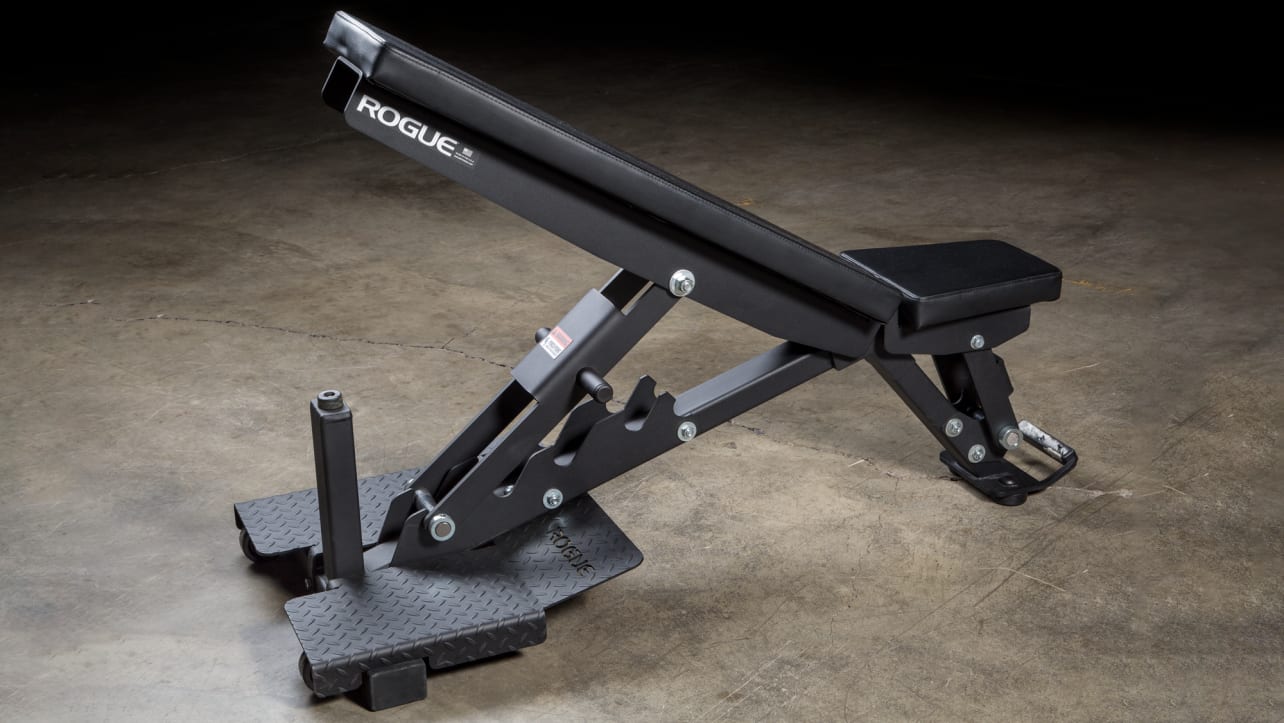 This bench is another high-quality offering from Rogue, made of laser-cut steel and a bolted-together construction. This adjustable bench boasts six different backrest positions ranging from 0-85 degrees and two seat positions for maximum versatility.
We really love the fact that even though this bench is adjustable, it has virtually no gap between the seat and backrest, preventing the discomfort that is common with adjustable benches. If you're also in the market for a new spotter deck or vertical storage solution, this adjustable bench comes with additional add-on options.
This bench is definitely high-quality, but it will also cost more than other benches in this review.
Pros
Minimal pad gap
6 backrest positions
2 seat positions
Laser-cut steel
Bolt-together construction
Compatible spotter deck and storage accessories available
Cons
Expensive
No decline settings
Key Takeaway
The Adjustable Bench 2.0 from Rogue is a seriously durable and well-constructed piece of equipment that will serve you well for any exercise. It's more comfortable and stable than many other cheaper options, but it will also cost you more.
Rogue
Flat Utility Bench 2.0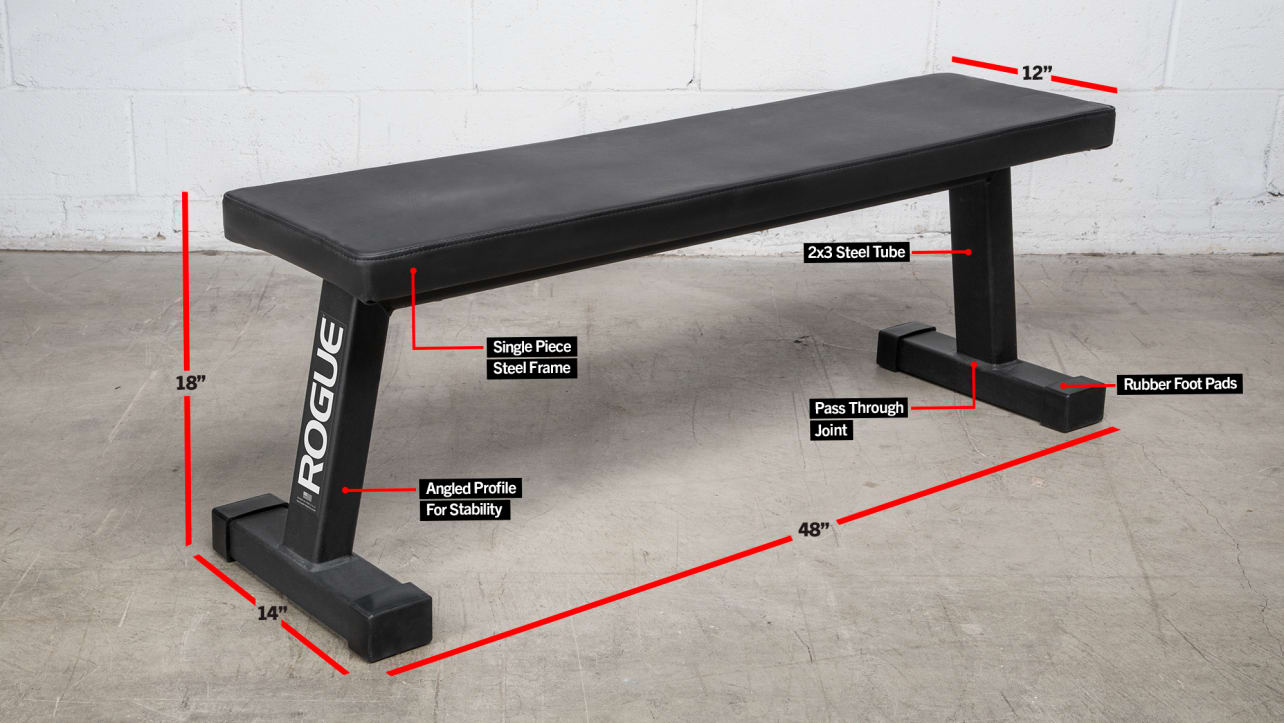 For a solid flat bench, you can't get much better than Rogue's Flat Utility Bench 2.0. This bench comes fully assembled in one solid 40 pound piece, making it easy to move around but durable enough to last through any workout. Rogue is also known for making quality, long-lasting exercise equipment.
This bench has wide-set, angled legs for increased stability. This piece is relatively cheap compared to other benches, but it does not come with adjustable features.
Pros
No assembly required
Solid one-piece construction
Angled legs for stability
Quick same-day shipping
Weighs Only 40 pounds
Cons
Key Takeaway
This bench is perfect if you're looking for a flat bench that lasts. It doesn't adjust, which does not make it ideal for many weight-lifting exercises, but for things like standard bench presses, it works well.
Yes4All
Adjustable Weight Bench
This bench from Yes4All is basic but gets the job done as an adjustable piece of workout equipment. It allows up to 7 backrest positions and is made of heavy-duty powdered steel. The padding itself is very thick and covered with waterproof leather for comfort.
This bench can hold up to 400 pounds, although some users report that it gets wobbly if you go up too much in weight. It's a good storage solution for smaller home gyms as well, as it can be folded to half its size when not in use.
Pros
Waterproof leather and thick padding
Powdered heavy-duty steel
Supports up to 400 lbs
Compact
7 backrest positions
Cons
Wobbly when using heavier weights
Key Takeaway
The Yes4All is a solid choice for a bench as long as you aren't going to be using too much weight during your workout. It's versatile enough for most workouts and is made of relatively quality materials for the budget.
Weider
Incline Weight Bench
This adjustable Weider bench offers five different positions including a decline function, ranging a total of 90 degrees. It also comes with a 4-roll leg lockdown feature, making it ideal for decline ab work and other isolation movements.
The Weider Incline Bench can hold up to 300 lbs and comes with an exercise chart to give you ideas during your workout. It is relatively cheap, but some reviewers reported that the holes don't line up on the adjustment feature, making it difficult to change positions.
Pros
Included leg lockdown feature
5 bench positions
Decline available
Holds up to 300lbs
Included exercise chart
Inexpensive
Cons
Key Takeaway
This weight bench is an option for someone working with a limited budget. It has plenty of adjustment features, but the construction may make it difficult to actually take advantage of the different angles.
Marcy SB-261W
Exercise Utility Bench
The Marcy SB-261W Exercise Bench takes both storage space and functionality into consideration. It is made of powder-coated steel and weighs only 27 pounds, making it portable and a good storage solution, but can still support up to 300 pounds! It also features comfortable roller pads for increased stability during your workout.
This bench is adjustable, but this option is limited. It has three angles: a flat, a decline, and an incline position, which may limit the possibility to do some exercises that require "in-between" angles. Some users do report that the backrest is wobbly, which could present safety issues.
Pros
Adjustable
Comfortable roller pads
Powder-coated steel
Supports up to 300 lbs
Compact
Decently priced
Cons
Only three positions
May become wobbly overtime with extensive use of heavy weights.
Key Takeaway
This bench is another budget option, but it will do the trick if you need the three basic angles and don't need to put a ton of weight on it during your workout routine. The wobbliness is a worrying factor, so be aware if you do decide to purchase this.
PERLECARE
Adjustable Weight Bench
The PERLECARE Adjustable Bench has the most function out of all the benches on this list because of the addition of an ab board and preacher curl bench. It also allows you to adjust the backrest to seven different positions, making it a good basic bench for other weightlifting functions.
This bench is incredibly compact and can fold down to make storage easy. On the downside, the bench claims to hold 772 pounds but doesn't seem to be very sturdy according to some reviewers. It's also a smaller bench, so it isn't the best choice for taller users.
Pros
Folds down to be very compact
Ab board/preacher curl addition
7 backrest positions
772-lb weight capacity
Cons
Not very sturdy
Too small for taller users
Key Takeaway
If you are a smaller person who doesn't need to push a lot of weight, this adjustable bench might be a good choice for you. Its real appeal is in the ab board and preacher curl addition, as it allows you to do other workouts than another basic bench.
Our Top Pick, And Why!
The Advenor Weight Bench combines both practicality and budget-friendliness to make a sturdy and multi-functional bench that can fit well for most workouts. Its multiple angles and easy-adjust spring knob makes it simple to adjust it for every workout you'd like, plus it can hold up to a pretty good amount of weight for the price.
Frequently Asked Questions
Why buy a weight bench that is built simple?
Having a good weight bench is crucial for increasing the diversity of your workouts, and a simple bench is a more budget-friendly way to take advantage of elevated weight work. They're also ideal for people who don't push a ton of weight during their workouts, since simpler benches should be able to support those smaller loads.
More advanced weight benches may offer more adjustment angles, but if you simply need a bench that lies flat or moves to a couple of angles (look for decline, incline, and flat) a simple bench should do the trick.
How much should I spend on a fitness bench?
The amount you spend on a fitness bench should line up with your uses for it.
There are simple weight benches that you can buy for as little as $50 or less, but you are also sacrificing quality and stability, which are both very important for working out safely.
Benches in the $90-100 range tend to be simple but durable enough to hold for most workouts.
How can you use a weight bench?
Weight benches can be used for a variety of workouts. The most common uses for a bench are upper body workouts, but you can also incorporate leg and ab work.
If you have an adjustable bench, you can do even more workouts that target your muscles from different angles. For example:
On a flat bench, you can do bench presses, pullovers, single-armed rows, and ab work.
At an incline, you can get enough back support to do a variety of upper body workouts like shoulder and chest presses.
On a decline, you can hit different bench press angles or do decline curls if your bench has leg rollers.
What should I look for when buying a weight bench?
Stability
One of the most important things to consider when buying a bench, especially a simple one, is how stable that bench is. Look for benches that have their legs at a wide angle to increase sturdiness. You'll also want to avoid benches that seem very cheaply made, as you can run the risk of them breaking during your workout and causing potential injuries.
Versatility
Depending on how you intend to use your bench, you want to make sure that it can adjust to accommodate your needs. A flat bench is the simplest bench you can buy, but if you want to do more upper body work that requires back support, you'll want one that inclines.
In addition, some benches only adjust to one incline and one decline position, but if you have specific work in mind you should get a bench that has multiple levels of adjustment at different angles to maximize your workout possibilities.
Comfort
It's important to consider the padding on a bench especially if you intend to use it for heavier weight work that puts a lot of pressure on the contact points.