Are you on the hunt to add a power rack to your home gym? You've come to the right place.
Power racks offer you various options. From squats and deadlifts to barbell rows and military presses, you can perform a whole-body workout with just this one piece of equipment. It gives you all the benefits of working at a gym all within the comfort of your own home. You can build lean muscle mass and get stronger – all while not feeling like you're wasting money on a gym membership you never use.
Below, we've got our top list to help you select the best power rack for your home gym. Let's dive right in.
Reviewing The Best Power Racks For Home and Comparison Chart
Comparison Chart
Fitness Reality 810XLT Super Max Power Cage | Optional Lat Pull-down Attachment and Adjustable Leg Hold-down | Power Cage Only
ROGUE RML-390BT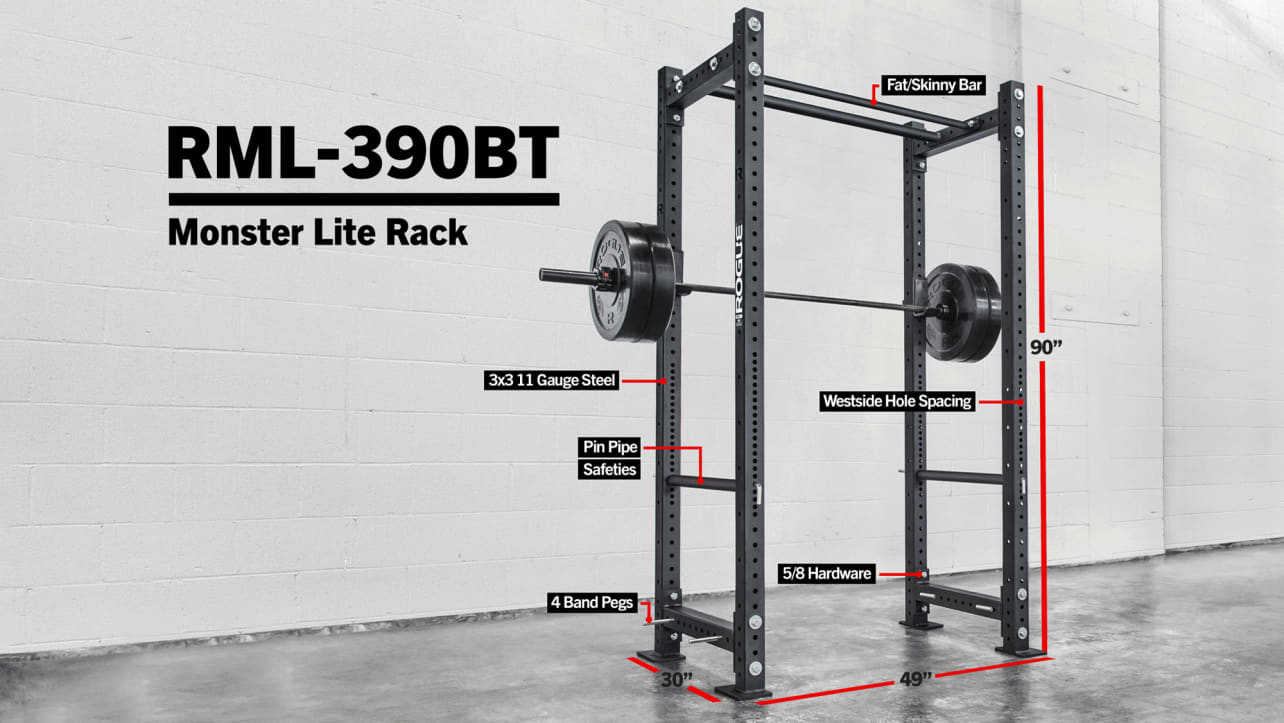 The Rogue RML – 390BT Power Rack offers extreme stability. This rack must be bolted to the ground, which is one of its best features as it offers the ideal support for heavyweights and lifts. Made of 3×3" 11 gauge steel, this rack is ultra-strong and durable.
This Rogue power rack also comes with 4 band pegs. This allows you to strap resistance bands to the rack, adding even more of a challenge to your workout and lifts. In other words, you get just as good of a workout as you would at any commercial gym. Consumers also report that this rack was fairly easy to assemble. One reviewer did comment that he had received the wrong instructions for the product, but that it was easy to assemble either way.
With a 34″ x 53″ footprint, this rack can easily fit in a home gym – even if that is simply the back corner of your basement. Like other Rogue products, there are also options to upgrade this rack with various attachments if need be.
Pros
Solid, strong, and durable
Easy to assemble
34″ x 53″ footprint, which makes it great for small areas or gyms
Includes pair of Monster J-cups, Set of Pin/Pipe Safeties, 4 Band Pegs for additional resistance workouts, and 43″ Fat/Skinny Pull-Up Bar
Cons
The unit must be bolted to the floor or to the wall, which may not work for some individuals' homes.
Key Takeaway
This power rack lives up to Rogue's pristine standards. It's exactly what most individuals would need for their home gym. In fact, for the serious powerlifters out there, you can fit this rack with other attachments that you can buy separately. The one downside, for some, is that the unit must be bolted to the floor or the wall. While this provides optimal support for the user, not everyone is able to bolt this item to their home or apartment flooring or walls. Yet, for the consumer that is able to bolt this item to the floor or wall, it's an easy win.
Fitness Reality 810XLT
Super Max Power Cage
Fitness Reality provides a power rack at a highly affordable price. The rack comes with two chrome dual mounted safety bars and two chrome lock-on safety bars. You can also pay for a slight upgrade and purchase the rack alongside a bench or lat pulldown.
Many 200 pounds or more men have reported that this rack is very sturdy and durable. They claim it holds their weight and the working weight they use with no issue. While easy to assemble, you do need to put aside some time for the set-up of Fitness Reality's power rack. Users report it taking them anywhere from two to four hours to fully assemble.
This rack further comes with 19 different height levels, which provides you with the ability to control your range of motion through each movement.
Pros
Solid, strong, and durable
Can handle up to 800 lbs
19 different height levels
Great value and affordable product
Easy assembly
Cons
Consumers have reported parts missing upon delivery.
Key Takeaway
Fitness Reality builds a rack at an affordable price, making it a competitor for other major power racks. Many previous buyers have reported their love of this product, as well as its sturdiness. One thing to note is that some recent buyers have reported parts missing upon delivery.
With some reviewers stating that the company will not send replacement parts, this is something you'll want to keep in mind when purchasing this particular squat rack. Other than that, it appears that Fitness Reality has created an excellent power rack at a reasonable cost. Perhaps with that in mind, any missing pieces may be forgivable.
ROGUE RE-4 ECHO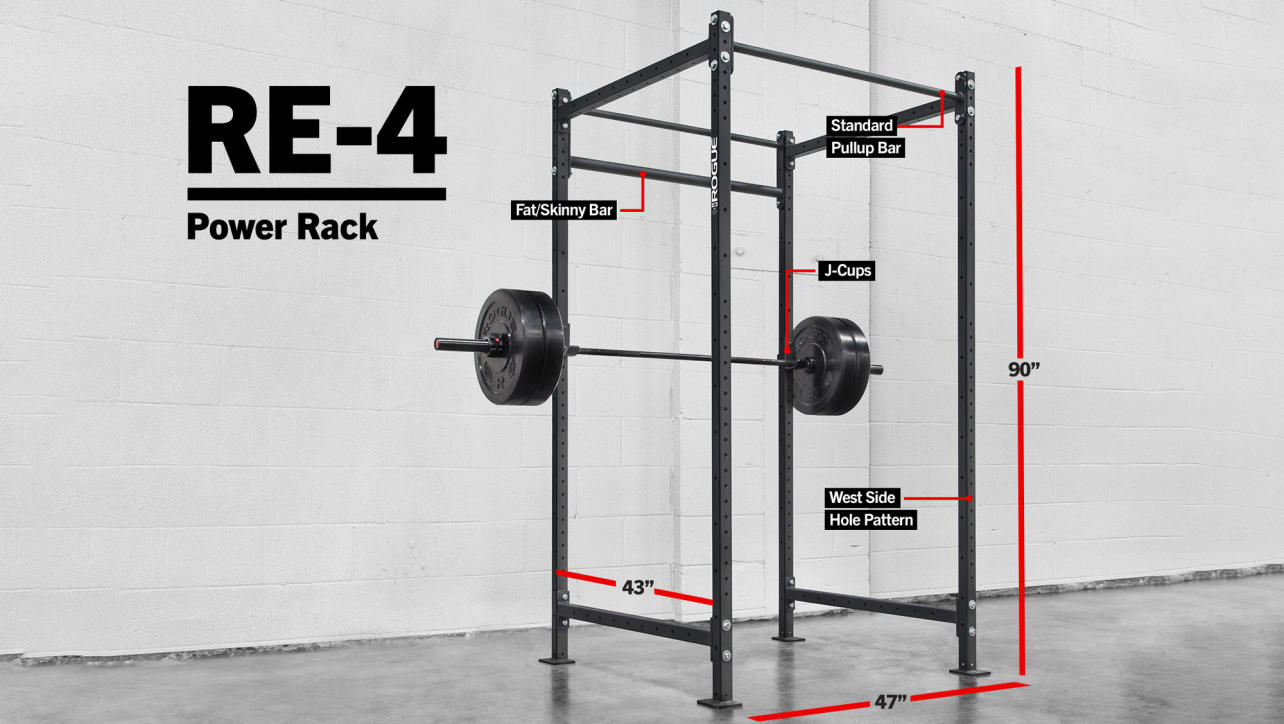 Rogue always offers a variety of items at different prices. Their echo rack offers an economical version of their traditional power rack. It comes with a slightly bigger footprint than more expensive Rogue racks, but it is still quite space-savvy. It can easily fit into the corner of your basement or within a small space in your home gym.
It comes with four zinc-plated band pegs and 2 fully weld J-cups. It also includes a single pull-up bar and a fat/skinny pull-up bar, which offers a ton of versatility for exercise options. Made with 2×2" 11-gauge steel, this rack is also very durable and sturdy. It must be bolted to the floor, which adds to its sturdiness, ensuring your safety during each and every workout. Undeniably, Rogue has created a very affordable but high-quality rack.
Pros
Affordable and high quality
53"x53" footprint
Includes both a single pull-up bar and fat/skinny pull-up bar.
Has 4 zinc-plated band pegs and 2 fully welded J-cups
Cons
The unit must be bolted to the floor before use.
Key Takeaway
This rack is perfect for those that want a more economical power rack that still comes with high-quality fittings and frame. While not as affordable as some other options, it does knock about half the price off of higher-end alternatives.
It's ideal for powerlifters who are on a budget but want a piece of equipment they can rely on. If you don't have a place to bolt this rack into the floor, you may want to go with another variety. Bolting it to the floor is necessary for sturdiness and use. However, it does sound like you can substitute this bolting with a stabilizer. Like all other Rogue products, you can also get add-ons for this rack at an additional cost.
ROGUE RML-390C
Power Squat Rack
Rogue has many different racks including the Rogue RML – 390C Power Rack 3.0. The biggest selling point for this rack is the custom color finish, which really sets it apart from other options. However, it does cost $1000 to have this feature when other features are comparable to other power racks.
This rack is built with a heavy-duty 3×3" 11-gauge steel frame. It also has a reasonably sized footprint at 34" x 53" which makes it perfect for home gym spaces. The other cool part about this rack is the ability to customize it. Popular add-ons include safety spotter arms, the strap safety system, slinger, and more.
This rack also comes with a pull-up bar, J-cups, safeties, and resistant band pegs, offering you the basics of a good powerlifting workout.
Pros
Custom color finish
Heavy-duty 3×3″ 11-gauge square steel uprights with 5/8″ diameter SAE grade 5 bolt hardware
34" (or 40") x 53" footprint
Very stable
Includes pull-up bar, J-cups, safeties, and resistant band pegs
Can be combined with other Rogue Monster Lite products
Cons
The unit should be bolted to the floor before use, and the hardware is not included.
Key Takeaway
If you want to jazz up your gym, this custom-colored rack is a great addition. It is very similar to other Rogue products in quality and durability. However, you won't find the custom color choices with any other full and ground-bolted Rogue rack. The smaller footprint of 34" x 53" is perfect for a small home gym.
Meanwhile, the 40" x 53" can also fit in some home gym spaces, depending on how much room you have. This unit, like other Rogue racks, must be bolted to the floor before you use it. A major downside is that you have to buy the hardware at an additional cost. Yet, for safety reasons, it's absolutely worth it.
ROGUE RML-3WC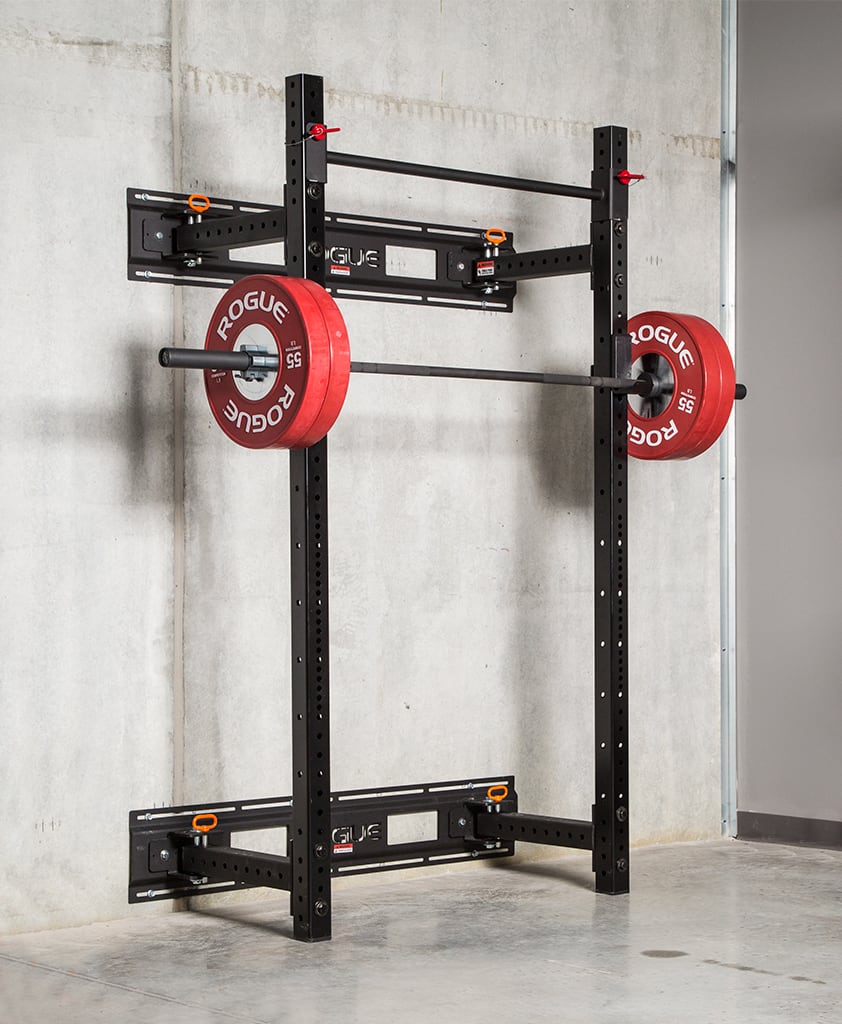 Fold Back Wall Mount Rack
The Rogue RML – 3WC Fold Back Wall Mount Rack is another custom-colored rack. However, unlike the Rogue RML – 390C Power Rack 3.0, this is not a full cage but rather it mounts directly on the wall. The unique part of this feature is that you can actually fold the rack in or out, which offers a space-saving option that isn't available with full cages.
Made with 3×3" 11 gauge steel, this is a very sturdy and stable rack. Yet, Rogue does mention that it is safest when checked by a contractor to ensure that it has been mounted correctly and can undertake various weights and stressors. This unit also comes with Monster Lite J-cups, 4 mounting brackets, and a pull-up bar. It is further compatible with other Rogue Monster Lite products, which means you can buy various additional pieces if you so choose.
Compared to many other of the best power racks for home gyms, this Rogue rack is reasonably priced, especially when compared to the cost of an ongoing gym membership. You also get great quality at an affordable cost.
Pros
Great quality at an affordable price
Custom color finish
The wall mount allows you to fold the rack in or out to save space.
Made with 3×3″ 11 gauge steel
Includes Set of Monster Lite J-cups, 4 mounting brackets, and a quick attack pull-up bar
Compatible with Rogue Monster Lite products
Cons
The unit must be mounted on the wall.
Key Takeaway
The Rogue RML – 3WC Fold Back Wall Mount Rack is a different take on the traditional power rack. It's perfect for individuals who really don't have space for a full rack but want to be able to perform similar exercises. The fact that this rack can be folded in to save safe also gives way to more space for other exercises to be performed in your home gym. Some individuals may consider the mounting of the unit on the wall a major downside. This really depends on your living situation.
Our Top Pick, And Why!
Our top pick is #1 – Rogue RML – 390BT Power Rack.
The Rogue RML – 390BT Power Rack is everything anyone would want in a power rack. It is a full cage equipped with pull-up bars, resistance pegs, and more. It's also strong and durable, which makes it perfect for even the heaviest of weights. Consumers also reported it was fairly easy to assemble. And with a reasonably sized footprint, this power rack comes out on top as the best power rack for your home gym.
Frequently Asked Questions
What Is The Difference Between A Power Rack, a Half Rack, And A Squat Rack?
A Power Rack: A power rack provides the user with a full cage to perform squats, bench presses, and more. This cage comes with safety bars that catch the barbell if working until failure occurs. This type of rack is sometimes also referred to as a 'full rack,' which means it often has four standing posts.
A Half Rack: A half rack has only two standing posts, hence the word 'half.' Many prefer a half-rack since you aren't restricted by the cafe. However, it isn't equipped with quite the same safety features as a power rack.
A Squat Rack: A squat rack is usually a half rack. However, this may vary depending on who you ask. Some squat racks aren't full half racks, but rather smaller stands that allow you to load the barbell onto your back to perform a squat. These smaller stands further may provide less safety, since if it doesn't include safety bars, the only option upon failure is to drop the bar to the ground.
Should You Get A Power Rack Or Squat Rack?
The answer to this question really depends on what exercises you intend to perform. A power rack offers various safety features. If you intend on lifting heavy for various lifts, a power rack is definitely more suitable. If you simply want to squat low weight on the bar at high reps, a squat rack is more appropriate. However, if you intend on doing bench presses and other exercises, we recommend the power rack for the full deal.
What Exercises Can You Do On A Power Rack?
With a power rack, you can safely and effectively perform the three major lifts, the squat, deadlift, and bench press. However, the power rack also enables you to safely perform shoulder presses, Z presses, heavy rows, and more. It covers all the powerlifting moves you need for a full-body workout.
How Do I Choose A Power Rack?
So, you've decided you want to buy a power rack. What features should you keep an eye out for?
Safety
Safety is of the utmost importance, especially when you're lifting heavy weights. A quality power rack allows you to push yourself to failure during your lifts, without negative repercussions. This means they come with adjustable safety bars, which catch your bar and weight if you are unable to finish your repetition. Further, this means that the rack must be built with sturdiness in mind. If it's not sturdy, it's not safe.
Cost
This mostly comes down to your individual budget. While many are ready to go and blow a grande or two on a high quality and no-fuss power rack, some may have to look for more budget-savvy options that don't cut on quality or sturdiness. The truth is that you can get a reasonably safe and sturdy rack for almost half the cost of some of the most expensive options. Rogue is a good example of this where they have a very wide price range, but you are guaranteed quality with all of their products – no matter the price. 
Space
Measure the area you intend to place your power rack in. This can help you determine what your options are. For instance, if you don't have room for a bigger rack, maybe a wall mount version of the same rack is more appropriate for your home gym.
Quality
The quality comes down to the materials used to build the rack. Most manufacturers will have this listed under the product and price. While checking this, it is also a good idea to ensure the hole spacing on the rack is about one inch as this allows you to make small adjustments in height. Quality also determines sturdiness which loops right back around to whether or not the rack is safe.